Magnus Magnusson: Belongings auctioned for charity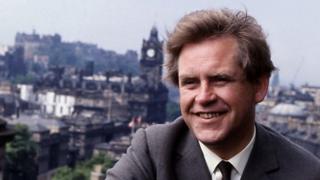 An auction of items owned by Magnus Magnusson, former presenter of Mastermind, is being held to raise money for charity.
Author and journalist Mr Magnusson presented the BBC quiz show for 25 years. He died in January 2007.
A sale of books and an auction of his belongings will be held on 14 and 15 November in East Dunbartonshire, where Mr Magnusson lived.
Proceeds will go to The Balmore Trust, a fair trade charity.
Lots include items from Mr Magnusson's library with personal inscriptions and memorabilia such as a cut-glass replica of the Mastermind chair.
Supporters and neighbours
Mr Magnusson - who went down in broadcasting history for his famous declaration "I've started, so I'll finish" - was a supporter of The Balmore Trust.
The charity sells fairly-traded goods in its shop The Coach House and supports projects in Africa, India and the west of Scotland.
Mr Magnusson's daughter, broadcaster Sally Magnusson, will be present at the auction.
She said: "My dad had a huge library of books and a number of gifts from organisations close to his heart, not all of which we have been able to keep ourselves. I know he'd have been glad to offer others the chance of helping The Balmore Coach House in this way."
Balmore Trust Chairman John Riches was a neighbour of Mr Magnusson and his wife Mamie.
He said: "Magnus and Mamie were firm supporters of our work, but more than that they were wonderful people and great neighbours."
Rare insight
The auction will be held at Milngavie Town Hall from 10:00 on Saturday 15 November, with a viewing taking place on Friday 14 November from 19:00.
A collection of Mr Magnusson's books will be sold at the town hall throughout.
East Dunbartonshire Provost Una Walker provided the venue for the event. She said: "I think this is a tremendous way to raise funds for a worthy cause while at the same time remembering a world-class broadcaster, writer and former East Dunbartonshire resident.
"I am delighted to support this unique auction and hope as many people as possible can attend and enjoy a rare insight into the life of such an iconic figure."