Bursary help begins at fire-hit Glasgow School of Art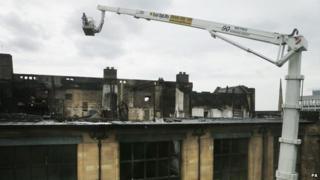 Students who lost work in a fire at Glasgow School of Art (GSA) have resumed their studies with the help of a Phoenix Bursary scheme.
The blaze broke out on 23 May, just as many fine art students were hours away from handing in their final year work.
Now 100 of the 102 students who were eligible for the £750,000 bursary scheme have opted to start again.
Almost half will stay in Glasgow. The others opted to continue their studies at art schools around the world.
GSA said the 47 students who had chosen to stay in Glasgow would work at newly-created studio space in The Whisky Bond.
Mongolia study
Others have chosen to take up places at 21 institutions in 15 cities across the world.
These include England, Canada, Switzerland, and in one case, Mongolia, where the student will study at the state university.
Most students will keep in touch on social media and the plan is that they will stage their rescheduled degree show together next spring.
The Phoenix Bursary Scheme was supported by a £750,000 grant from the Scottish government.
Scottish ministers and the UK government have also pledged to contribute towards a fund to raise £20m towards the restoration cost of the iconic Mackintosh building that was badly damaged in the fire.
Firefighters managed to save about 90% of the structure and 70% of its contents, although the Mackintosh library was among the most badly-damaged areas.