Glasgow defends festive role for reindeer amid Peta criticism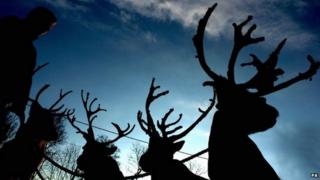 An animal rights group has called for a ban on reindeer being used during Glasgow's festive events.
People for the Ethical Treatment of Animals (Peta) wants the city council to halt plans for reindeer to feature in the Glasgow on Ice festival.
It said a busy George Square would not be suitable for the animals and they would be left "stressed and afraid".
Glasgow Life, which is running the event, said the health and safety of the animals and public was a priority.
Peta has written to Glasgow City Council leader Gordon Matheson, calling on him to halt plans to use live reindeer in the festival, which runs from 27 November to 31 December.
'Unsuitable environment'
The charity said a commercial centre such as George Square "filled with noisy shoppers, bright lights and excited children" is not a suitable environment for the animals.
Campaign co-ordinator Kirsty Henderson said: "Reindeer used in seasonal displays are forced into close contact with the public, which leaves them stressed and afraid.
"There are many other ways that Glaswegians could celebrate this Christmas that would not compromise the well-being of animals or put the public at risk."
Festival organisers Glasgow Life said the reindeer would be in a secure petting area, with only one family allowed access at a time.
A spokeswoman said: "A maximum of two people will be allowed to pet the reindeer at any time and always under the supervision of staff who have worked with the animals since 2007.
"The health and safety of reindeer and the wider public remain our priority. As such, we have made a conscious effort in selecting and working with an organisation where the welfare of animals is at the heart of what they do.
"We have been working with a local, family-run farm where the animals are raised around children and are seen as part of their extended family. The farm owners always prioritise their animals' welfare over profit."
The reindeer will be in George Square on December 14, 22 and 23 from 12:00 until 16:00.
In response to the letter from Peta, Glasgow Life added: "There has never been, nor will there be, any plans to put the reindeer on the ice rink."