BAE Systems to recruit 165 young people for Glasgow shipyards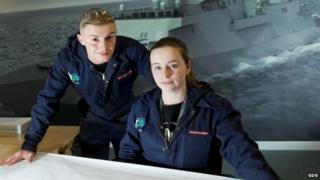 BAE Systems is aiming to recruit around 165 apprentices and graduates for its naval ship building business on the River Clyde in Glasgow.
Work is due to start next year on major contracts to deliver the Royal Navy's future warships, including Type 26 Global Combat Ships.
There are 113 apprentice positions, 34 roles for graduates, 13 industrial placements and five summer internships.
The recruitment will see the number of young trainees in Glasgow rise to 250.
The Ministry of Defence announced in August that three new Royal Navy patrol vessels will be built at BAE Systems' shipyards on the Clyde under a £348m contract.
'Skills strategy'
Mick Ord, managing director at BAE Systems Naval Ships, said: "This record recruitment campaign reflects the momentum behind our programmes such as the Royal Navy's new River Class offshore patrol vessels and the importance of these roles in securing the long-term future of our business.
"There's a growing demand from young people for viable alternatives to university where they can acquire their skills while earning a competitive salary.
"Investing in our early careers programme is an important part of our future skills strategy as we create a world class naval engineering business in Glasgow."
Cabinet Secretary for Training, Youth and Women's Employment, Angela Constance, said: "This recruitment campaign is an excellent example of the rich and varied options open to those starting out in their careers and I am delighted to see BAE Systems' commitment to Glasgow.
"Investing in young people is not just the right thing to do, it is the smart thing to do and I commend BAE Systems for their investment in a programme on this scale.
"Such a commitment is also a testament to the confidence employers have in the quality of our further and higher education institutions that prepare our graduates so well to take on the challenges of work."