Glasgow secures Queen's Commonwealth Games Baton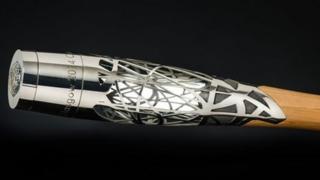 Glasgow is to keep the Queen's Baton, one of the defining symbols of this summer's Commonwealth Games.
The baton carried the Queen's hand-written message to the Commonwealth and visited 70 nations and territories during a nine-month-long relay.
Its journey ended at the Games opening ceremony at Celtic Park on 23 July when the Queen read the message inside.
The baton has been secured by Glasgow and will go on show in a new exhibition at the Riverside Museum next year.
Councillor Archie Graham, chair of Glasgow Life and depute leader of Glasgow City Council, said: "We're delighted to have secured such a significant piece of Commonwealth Games history for the people of Glasgow.
'Passion and excitement'
"Across three magical days in July, the baton touched every community of this great city and brought to life, the passion and excitement everyone felt in the run-up to what would become the best Games ever.
"What's more, the Queen's Baton Relay touched communities right across the world, bringing them together in the true spirit of our common wealth - friendship, equality and respect."
The hand-crafted baton is made from wood, titanium and granite.
It was created by Glasgow-based designers, 4c Design, who aimed to craft something that reflected the city's and Scotland's culture, history and innovation.
Details surrounding the new display at the Riverside Museum are still being finalised.
Councillor Graham added: "The Queen's Baton was unveiled in the Riverside Museum, which was apt, given it would travel the world in boats, planes and even by zip-wire.
"It is absolutely fitting that it should return to our spectacular museum of transport and travel, where we can explore its journey and the impact if made on both individuals and athletes."