NHS apology after patient choked to death at Gartnavel Hospital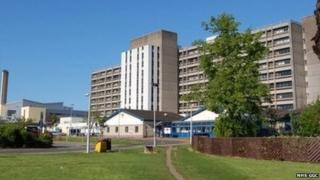 Scotland's largest health board has apologised and paid compensation to the family of an elderly man who choked to death in a Glasgow hospital.
Roddy MacDonald, 84, who had Parkinson's disease, was fed goulash instead of soft, mashed up food at Gartnavel Hospital in 2011.
A significant incident review later identified major failings in his care.
NHS Greater Glasgow and Clyde has now apologised to Mr MacDonald's family and paid compensation of more than £20,000.
In a statement, the health board acknowledged that Mr MacDonald's death was "a tragic case" and it accepted there "were failings in the care" given to him at Gartnavel.
'Lessons learned'
"These were highlighted during our own significant incident review process and a range of lessons were learned and improvements put in place.," the health board said.
"The circumstances of Mr MacDonald's care were fully investigated and our findings were shared with the procurator fiscal (PF).
"The PF was satisfied with the measures we had taken to address the issues identified in our investigation and as such the PF advised that they would not carry out a fatal accident inquiry."
The health board said that Mr MacDonald's family had lodged a claim for compensation in March this year and this had been settled "as quickly as possible in the light of our own findings".
The statement added: "It has not been possible to arrange to meet the family to discuss Mr MacDonald's care in the light of the ongoing claim for compensation.
"We would be happy to meet with the family to share the findings of the investigation and offer them a full apology now that the compensation claim has been resolved."