Plan for specialist maths and science school in Glasgow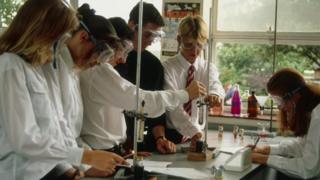 A unique plan for a specialist centre to help teenagers in Glasgow study maths, science and technology has been revealed.
The hub, at a college in the city, will act as a centre of excellence for schools and pupils.
Part of the funding will come from former students of a now-closed school.
Allan Glen's School was a selective school credited with helping many youngsters from humble backgrounds reach the top.
The plan is for the hub, which will have dedicated staff, to open next year.
Several different groups and organisations would be involved, including colleges, universities and the city council.
The hub would initially open at the City of Glasgow College's Riverside campus next autumn. Then in 2016, it may move to a new development in Cathedral Street on the former site of Allan Glen's School.
It would offer special facilities for pupils from across the city, ranging from sessions to stimulate an interest in the subjects to help for youngsters interested in going on to study them at college and university.
Student scholarships
Much of the funding would come from Glasgow City Council but the Allan Glen Trust would also have a crucial part.
The trust was originally established to set up the school in the 19th Century and provided bursaries for pupils.
The school itself became a comprehensive in the 1970s and closed in the late 1980s.
More recently the trust has provided scholarships for students who want to study engineering at university.
Allan Glen's has a long list of distinguished former pupils including scientists and engineers. Many came from modest backgrounds.
The trust is maintained by fundraising by its former pupils.
One of its pupils was Lord Smith of Kelvin, currently chairing the commission looking at what additional powers Holyrood may be granted.
He is championing the scheme for the hub and believes it could play a part in transforming the lives of some youngsters.
"The demand for people with that background is immense whether it's renewable energy, or engineering, or areas of science, and there's good money to be made by people," he said.