Work set to start on £5.2m scheme to revamp Gourock town centre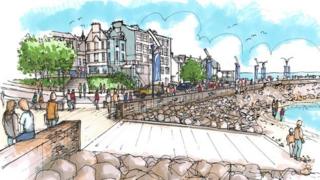 Work is set to begin on a £5.2m scheme to revamp Gourock town centre.
The project includes increased car parking, a new public space along the waterfront and a facility for small craft to access the beach at Pierhead.
Inverclyde Council said public spaces at each end of Kempock Street would also be redesigned and footpaths on the street renewed.
Preparatory work will start before Christmas and individual projects will be phased in next year.
Jewel in the crown
Inverclyde Council's environment and regeneration convener, Councillor Michael McCormick, said: "This is an historic day for Inverclyde and for the people of Gourock.
"It has been a lengthy process to bring all of the necessary licenses, permissions and land transfers together but we are finally in a position to begin.
"This project is a key priority for the council and an opportunity to enhance and regenerate one of the jewels in the crown of Inverclyde."
The project is being delivered by regeneration company Riverside Inverclyde. The contractor is RJ McLeod .
A £600,000 project to repair and renew the sea wall adjacent to Kempock Street will be carried out and incorporated within the main contract.