Christopher Shone on trial over murder of Mary Craig in Lochwinnoch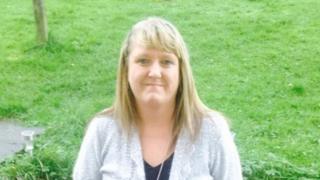 A 55-year-old man has gone on trial charged with the murder of his partner at their home in Renfrewshire.
Christopher Shone is alleged to have stabbed 43-year-old Mary Craig following an argument at the home they shared in Lochwinnoch on 26 May.
The mother-of-four's body was found by the emergency services after they were called to the scene at about 22:45.
Mr Shone denies murdering his partner of eight years.
It is alleged that Mr Shone and Ms Craig rowed about old home videos, which showed her late husband, on the day he is accused of killing her.
'Cheery and bubbly'
The jury heard from neighbour Amanda Brown, who recalled how she chatted with Ms Craig on the night of 26 May.
The witness said Mary was "usually cheery and bubbly", but that evening appeared to be "quiet and looked fed up".
Prosecutor Steven Borthwick asked: "Was there any reason she told you about?"
Ms Brown replied: "She said that it was because of Chris - her partner."
Mr Borthwick later went on: "Did Mary tell you anything about how Chris was that evening?"
The 27 year-old replied: "She told me that he was drunk - she said she could not be bothered with it any more and was sick of it.
"I thought she was going to leave him... separate."
Ms Brown recalled how she was later in bed when she became aware of a "loud bang".
The nursery nurse went on: "It sounded like someone's door getting kicked in. I got up, looked out the back window and saw Chris Shone being taken away by the police."
Mr Shone's QC Brian McConnachie later put to Miss Brown that - as far as she was aware - the couple had a relationship that was "up and down". The witness replied: "Yes."
Mr McConnachie also asked: "The argument that night was something to do with videos that contained footage of Mary's ex-husband and that Chris had been annoyed or upset as a result of that?" Ms Brown agreed.
The trial at the High Court in Glasgow continues.