South Lanarkshire Council considers bigger class sizes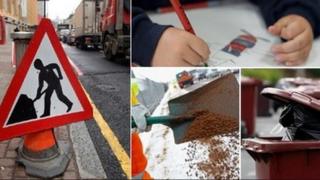 South Lanarkshire Council is considering having bigger primary school class sizes as part of wider moves to balance its budget.
The authority is attempting to save £20m next year and believes the proposal could save £370,000 a year.
One option is to stop having additional teachers to keep P1 and P2 class sizes at no more than 18 children.
Cutting class sizes at the start of primary school is a Scottish government priority.
Under national guidelines, P1 classes can have up to 25 children while there can be 30 pupils in P2 and P3 classes.
Progress towards cutting class sizes across Scotland has been limited and any move to actively increase their size could lead to a row between the council and ministers.
From August 2015, P1 and P2 classes at some schools in South Lanarkshire could be larger, though they would still comply with statutory limits.
School transport
Another option would see a review of the number of dedicated early years teachers for pre-school children.
Currently each early years establishment has a dedicated teacher. Changing this could save £400,000.
A cut in school transport is also up for consideration - potentially saving £900,000.
The council currently provides more than it is legally obliged to.
The proposal would be to scale back school transport so it was only provided for primary pupils who live more than two miles from their school and secondary students who live more than three miles away.
A wide range of options for cuts and savings is up for discussion across the full range of council services.
Cuts to library opening hours could save £250,000. Another option could see some streetlights turned on later and switched off earlier each day.
Councillors were told that the plans would inevitably hit council services, but that the budget plans would try to minimise the effect of the cuts on education, social work and roads.
Decisions have been put off until December to give time for alternatives options to be produced.
Council Leader Eddie McAvoy said tough choices had to be made, even thought the council will have a total budget of about £670m.
'Protecting services'
Mr McAvoy said: "South Lanarkshire Council has already made savings, year after year. We've been successful in making sure we do things as efficiently as possible while protecting the services that our residents rely on.
"But the grant we get from the Scottish government has not kept up with inflation and the increase in demand for services which all councils are experiencing. Added to that, our grant for next year has been cut by £3.5m after new funding arrangement were imposed on us.
"The council has already undertaken several rounds of efficiencies over the years. Every time we have to find further savings there is a danger they will bite deeper into the work we can do. But we will continue to do everything possible to minimise the impact on essential frontline services, particularly looking after our most vulnerable residents, and especially the young and the old."
Mr McAvoy argued the council had continued to invest in the area despite tight budgets. In recent years 100 primary schools have been either rebuilt or modernised.
At the moment additional teachers are in place in 14 schools in South Lanarkshire to support classes of 18 in P1 and P2.
In another six schools the class sizes are 18 or below because of pupil intakes.
If the proposal to remove the additional teachers is accepted, staff would be redeployed to other posts as officials look at school rolls and the allocation of teachers.