New graphic novel portrays Robert Burns as witch hunter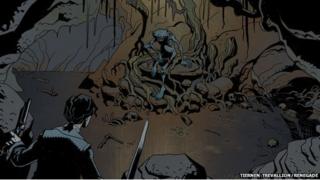 Robert Burns is portrayed as a flintlock-wielding witch hunter in a new graphic novel.
The Bard's tale Tam o' Shanter influenced the writing and artwork for the book, which will be officially unveiled in his birthplace on Monday.
Robbie Burns: Witch Hunter sees the young poet first having to be rescued by witch-hunters before he is forced into battles with sinister forces.
The novel includes references to many of Burns' other famous works.
The witch hunting version of the Bard even delivers some of his best-known lines in quips while fending off witches, bog monsters and demons.
Robbie Burns: Witch Hunter will be unveiled at the cottage in Alloway, near Ayr, where he was born on 25 January 1759.
The property is now in the care of the National Trust for Scotland's Burns museum.
Published by Renegade, the graphic novel's script was written by Gordon Rennie and Emma Beeby and drawn by artist Tiernen Trevallion.
Last year, Beeby became the first woman to write a Judge Dredd comic book story in the character's 36-year history.
She said: "It's been amazing to get so much support from the Burns community for this book.
"It definitely isn't an academic study, but it's still trying to be true to Burns. He was someone obsessed with the supernatural, and who wrote bawdy poems as well as literary ones."
Rennie has written computer games such as Call of Duty and Star Wars. He is also one of the main writers for UK comic 2000AD.
He said: "Tam o' Shanter lends itself perfectly to a comic adaptation - it's got action, comedy and monsters.
"And Burns is an ideal main character - a flawed, brilliant hero with a destiny to fulfil."
Burns wrote Tam o' Shanter in 1790 and set it in Alloway.
In 2012 the poem was voted Scotland's favourite work by Burns. It was also the inspiration for a painting by acclaimed Scots artist Alexander Goudie.
Other figures and places from Scotland's history have been adapted for graphic novels.
Burke & Hare - written by Martin Conaghan and drawn by Will Pickering - tells of Edinburgh's notorious 19th Century serial killers William Burke and William Hare.
Glasgow publisher BlackHearted Press's vampire comic book tale School of the Damned, meanwhile, opens on Hirta in St Kilda during the remote island's 1930 evacuation.