More bus gates planned for Glasgow city centre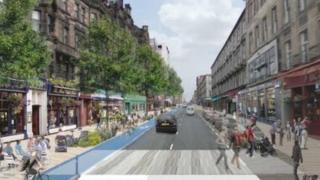 Glasgow City Council has identified two new locations for controversial bus gates.
Traffic would be limited on Renfield Street and Oswald Street.
A bus gate at Nelson Mandela Place was introduced in June, earning the council at least £800,000 in two months in fines for motorists who drove through it.
The report estimates that if the measures were introduced, city-centre traffic would fall by 9% but general traffic journey times would increase.
The council's transport strategy, which has not yet been approved, aims to identify problems and solutions for travel in the city centre.
Poor air quality was cited as a consistent issue, while poor conditions for cycling, quality of public transport provision and traffic demand issues were also mentioned.
The 10-year plan for city centre transport includes the proposal for new bus gates, tested using transport modelling, which could be in place in the next two years.
Traffic would be limited on the main north/south bus routes through Renfield Street and Oswald Street in the city centre.
Traffic levels
Bus gates ban private vehicles from travelling through certain areas at particular times of the day. They improve journey times for buses and taxis and can reduce the number of cars and improve the local environment.
The report also suggested six locations to be designated as "avenues", described by the report as "a network of high quality streets that support a range of functions and access by a variety of modes of transport".
The chosen areas are Sauchiehall Street, Candleriggs, George Street (via George Square), West Campbell Street and West Nile Street, due to their "existing character, levels of traffic, ability to connect across the city centre and links they provide to key locations in the city centre".
The introduction of avenues may include the removal of car parking spaces "to allow the widening of footways and introduction of cycle facilities", according to the report.
Proposed cycle routes include Candleriggs, George Street (via the north side of George Square), Miller Street, Sauchiehall Street, West Campbell Street and West Nile Street.
'Circuitous' travel
Other key suggestions in the report include the implementation of a series of cycle routes through the city centre, the investigation of a 20mph zone in the city centre, and consideration of ways to introduce a low emissions zone.
The strategy aims to "discourage trips through the heart of the city centre by making through-routes more circuitous and less appealing to drivers."
Councillor Alistair Watson, executive member for sustainability and transport, said: "The city centre transport strategy is about getting more people into the city by improving transport links, making it easier for them to reach the city's main shopping areas and for businesses to attract customers.
"It will reduce the number of car journeys across the city centre, not necessarily reduce the number of car journeys into the city.
"By reducing congestion and making it easier to travel into the city centre, the strategy will help boost Glasgow's economy and the continued growth of the retail sector, as well as reduce pollution."
Air quality
A spokesperson for First Glasgow, the city's biggest bus operator, said: "We very much welcome the city council's approach to prioritising public transport in the city centre.
"Measures like bus gates not only reduce congestion and improve air quality but also help support bus operators in providing a smoother, quicker and stress-free means for our passengers to get from A to B.
"First Glasgow is also committed to playing its part to improve air quality across the city and is investing around £7.4m in 47 state-of-the-art green vehicles, supported by the Scottish government's Green Bus Fund.
"We will also introduce virtual electric buses to our routes for the first time next year that will operate emission-free in crowded, inner-city environments and use hybrid technology to recharge while in less densely populated areas, significantly reducing kerbside emissions."