Arran Brewery warns Dreghorn break-ins 'threaten jobs'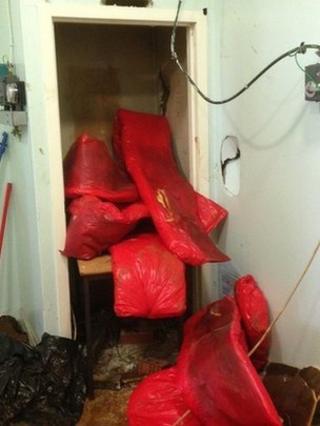 Arran Brewery has warned that jobs and investment are being put at risk by continued break-ins and vandalism at its site in Dreghorn, North Ayrshire.
The firm said four break-ins in as many weeks had cost it more than £60,000 and windows were being broken quicker than they could be replaced.
The damage has meant the brewery is now unable to insure the site.
Managing Director Gerald Michaluk said it was now time to "declare war" on the "idiots and thieves" responsible.
"I am furious at the waste and cost of this vandalism," he said.
"We have had a break-in and several windows smashed this week alone, adding to the 139 windows we have started to repair."
'Few idiots'
Mr Michaluk said he did not want to make the site a "high security environment with barbed wire" and that would not suit plans for a visitor centre.
"We now employ seven staff on the site and continue to recruit but this criminality is putting our investment at risk," he said.
"For example, we cannot get insurance on the site now and these few idiots are putting serious investment and job creation at risk."
Mr Michaluk said Dreghorn was "a beautiful place" and the brewery had "recruited locally some fantastic people".
He added: "It is time the good people of Dreghorn take action to reclaim their village from the vandals and thieves.
"It is time to declare war on these antisocial idiots and thieves and put an end to their reign in Dreghorn. I will be meeting with the local community council to discuss this."
The Dreghorn site is a former primary school which the company only recently bought from the local council.
Arran plans to create a sake brewery, bottling hall and a research and development centre.
It will also feature a visitor centre, which aims to attract about 30,000 visitors a year to the area.
Previous break-ins at the site have seen copper boilers stolen along with lead from the roof.