Meet Aster: The first Hearing Dog to be trained entirely in Scotland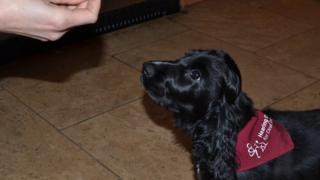 A dog is said to be man's best friend but for those with a hearing impairment they can be much more than just a companion.
Hearing dogs can help deaf people with everything from waking up in the morning to alerting them to sounds such as a phone or a doorbell ringing.
They could even be responsible for saving their deaf partner's life in an emergency.
Hearing Dogs for Deaf People is a charity, based in England, which is responsible for training and matching hearing dogs with the right non-hearing partner.
Having previously matched 85 dogs trained in England with profoundly deaf recipients north of the border, the charity now plans to carry out the full training and partnering programme in Scotland for the first time.
Edinburgh will be the first area where puppies will not only be socialised but will also do all their hearing dog training with volunteers in the home.
Twelve-week-old cocker spaniel Aster is the pioneer of this new programme.
I met her in Edinburgh at the home of 43-year-old volunteer Vicky Hope, who is responsible for looking after and training the puppy, alongside professional dog trainer Bryony White.
Vicky says she grew up with an increased awareness of the impact hearing loss could have on people's lives because her dad suffers from tinnitus.
But she says she had a very limited awareness of the charity before deciding to get involved.
Vicky says that while the experience has been "fantastic", particularly for her two young daughters Mimi, 11, and Belle, eight, they have to be careful not to forget that Aster is not just a normal puppy.
"We do have one or two sessions a week with our trainer, who comes over to the house and works on and off with me and Aster for a couple of hours, so we make sure that we are training her to be a great hearing dog in the future," Vicky says.
"The girls also really enjoy doing the training exercises because it's almost like you're teaching a dog to do tricks."
With this new training hub north of the border, there is hope that those living in Scotland may now be able to be paired with a hearing dog closer to home, rather than having to travel to one of the charity's training centre's in Yorkshire or Buckinghamshire.
However, Lyndsay Campbell the charity's fundraising manager is keen to emphasise that this will not always be the case.
"The priority in every partnership is matching the right dog with the right participant," she says.
"And that is determined more by how quickly someone needs a dog and on their individual circumstances, rather than by geographical area.
"So there is no guarantee that the dogs trained in Scotland will be linked up with a Scottish recipient, although before it was an impossibility. Now it is a possibility."
---
"My hearing dog has changed my life"
Neil Smith, 66, lost his hearing when he was only a year old, after contracting measles and then tuberculosis. He says getting a hearing dog in January 2013 has improved his quality of life "immensely".
Neil says: "I was bullied at school for being deaf, and couldn't join in with any games or conversations with other children. I became more and more withdrawn as I got older and shied away from mixing with other people. I realised that as my hearing got worse I could no longer join in.
"One day at the local hospital I saw a woman with a hearing dog. I'd never heard of the charity before and when she told me about it I went straight home and applied."
When Neil was first partnered with Ginger he had to travel more than 200 miles south to Yorkshire, for a week-long stay at at hearing dogs training centre.
But he says the benefits of having a hearing dog have far outweighed the initial travelling.
"I've had Ginger nearly two years now and words can't express how much he's changed my life," Neil says.
"He's given me the confidence to go out and meet people and make new friends.
"When I go out for a walk or into town people see Ginger's jacket and stop to ask what he does to help me.
"I've now started learning sign language and going to lip-reading classes with Ginger - he's just given me so much confidence and brings me so much happiness every day."
---
Bryony White, who claims to have trained hundreds of puppies over the course of her 15-year career, says the best way to understand puppy training is to think of a child's education.
"Puppies go to their socialisers at eight weeks old - which is nursery and primary level," she says.
"At the moment Aster is working on those kinds of basic skills, and then she'll go on to more and more advanced skills, and finally will do the sound work - we think of that as university level - before being put to work."
Bryony says that the most important part of the training is teaching the dogs to alert their non-hearing partners to an emergency.
She says: "With everyday sounds they lead the recipient towards what the sound is, so for example the doorbell or the telephone, if it is ringing.
"But in terms of emergency sounds you need a different response because you don't want the dog to potentially lead someone towards a danger.
"In that situation, where for example a smoke alarm was going off, the dog is taught to lie across in front of the person.
"It's a very distinct drop in front of the person, and so gives a very clear signal that there is some kind of danger."
Hearing Dogs for Deaf People hope that their new training hub in Edinburgh will encourage more deaf people in Scotland to apply for a hearing dog, as well as provide a springboard to expand their training programme even further around Scotland in the future.
But before they can do that, they need to recruit more volunteers to train the puppies.
So what are they looking for in an ideal candidate? According to Ms White, there isn't one.
"Volunteers can be anything and everything", she says. "Because we don't know what the non-hearing recipient is going to be like, we're looking for people from all sorts of walks of life to train the dogs.
"What we really look for is people with enthusiasm, who are willing to spend time with the dog, and who are preferably working from home or working part time," says fundraising manager Lyndsay Campbell.
"It's not at all age-specific."
As well as appealing for volunteers to train further puppies in Edinburgh and the surrounding area, the charity is also looking for willing participants to take part in what they call "short-term socialising".
This involves looking after the dog for a week or weekend when their regular volunteer trainer is on holiday.
What would Vicky's advice be to other would-be volunteers?
"If I can train a dog anyone can. I'm not a dog person and I don't have any particular knowledge or ability, but you get so much support from the charity. If you've got the time and you want a new challenge, and actually give something back to people it's a fantastic thing to do."
She adds: "It will be hard to say goodbye when the training period comes to an end but when we can see the great joy and independence she will bring to her recipient, we'll be happy to see her go on and do her job.
"They need her far more than we do."