Stuart McCulloch jailed for Samuel Johnston murder in Saltcoats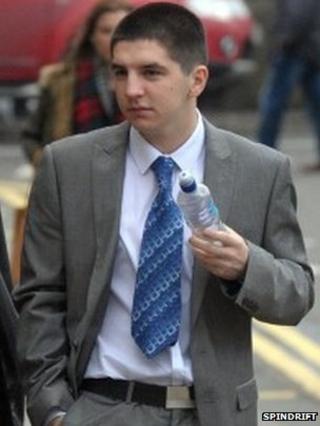 A teenager who was found guilty of murdering his best friend's brother at a party has been jailed for life.
Stuart McCulloch, 18, from Saltcoats, stabbed 22-year-old Samuel Johnston at a flat in the North Ayrshire town's Parkend Gardens on 26 October 2013.
He was told he must serve at least 13 years and five months in jail.
Co-accused Allan Carey, 19, from Ardrossan, was cleared of murder, but convicted of culpable homicide. He was jailed for three years.
Both accused were back in the dock at the High Court in Glasgow following a trial last month.
Jailing McCulloch for life, judge Bill Dunlop told him: "This is another senseless and tragic loss of life caused by the incomprehensible and casual indifference for the use of knives in the west of Scotland."
The judge told Carey that the jury must have been satisfied he was involved in an attack, but that the part he played was "impossible to know".
No emotion
The pair showed no emotion as they were led handcuffed to the cells.
A murder charge against a third man, Fergal Morgan, from Drumchapel in Glasgow, was withdrawn during the trial.
The court previously heard how trouble flared at the party in Parkend Gardens after host Leona Conn, 19, asked everyone to leave when a hole was punched in one of her doors.
During the disturbance, McCulloch stabbed father-of-one Mr Johnston through the heart.
Friends at the party, and a neighbour, tried desperately to save his life, but he died from massive blood loss.
Both accused had denied murder during the trial.
The Crown said that although Carey did not deliver the fatal blow he had taken part in the attack on Mr Johnston with McCulloch.
The court heard that first offender McCulloch had just returned from Romania where he had been doing charity work shortly before the murder.
DNA link
The jury was told that the murder weapon had Mr Johnston's blood on it and McCulloch's DNA on the handle.
In evidence McCulloch denied stabbing Mr Johnston to death. He claimed that the killer was Mr Morgan, who was originally also charged with murder.
McCulloch said the reason that his DNA was on the murder weapon was because as they left the flat, Morgan handed him the murder weapon and asked him to throw it away.
But Morgan was cleared of murder during the trial after the Crown withdrew the charge.
The 22-year-old is currently serving a sentence for robbing and assaulting a 68-year-old woman in Ardrossan and three weeks later attacking a man in his Ardrossan home.