Police officer Colin Rae sentenced for threats cover up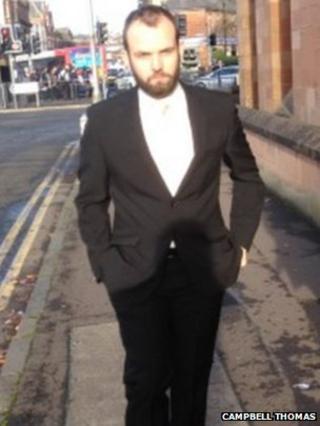 A police officer who covered up threats to firebomb a pub and kneecap the landlord has been ordered to carry out 300 hours of unpaid work.
PC Colin Rae, 31, helped a friend, while off-duty, fit decking at the Kings Arms Hotel in Fenwick, Ayrshire.
The owner was threatened after the bill was not paid. Rae asked to take the case but did not make a crime report.
At Kilmarnock Sheriff Court, he pleaded guilty to neglect of duty and breaches of data protection in May 2012.
Sheriff Alistair Watson imposed a community payback order and said it was "absolutely essential" to society that the public had faith in criminal allegations being investigated "fully and honestly".
Work dispute
The sheriff added: "Frankly, from the outset this demonstrates the absolute undesirability of serving police officers engaging in secondary occupations.
"It has often been said that a police officer remains a police officer even when off-duty."
The court heard how Rae had helped his friend, who cannot be named for legal reasons, fit decking at the pub.
They were never paid a £2,500 fee after a dispute over the work at the bar, run by Jill and David Grant.
Mr Grant was later threatened that the premises would be set alight and he would be kneecapped.
The matter was reported to police and PC Paul Gartland attended the pub and told Mr Grant he would speak to the men suspected of being behind the call.
As the officer left the pub he radioed his control room for a voters roll check but Rae overheard the message and contacted his colleague in a panic, asking him to hand over the inquiry.
Moments later Rae radioed back telling the other officer he had spoken to the suspect and told him "not to be so daft and that would be the end of it".
Later, Rae's beat partner PC Ashleigh Nelson noticed "something troubling" Rae, who was constantly checking his mobile phone.
She overheard him asking PC Gartland if he had written the call off and PC Gartland said he had not.
Rae then offered to deal with it himself. He later explained the story to probationer PC Nelson, 20, and asked her not to tell.
They then went to the Kings Arms where Rae reassured Mr Grant that he did not need to pay the money and that he would sort it out.
PC Nelson "felt uncomfortable" about what she had witnessed. Detectives then discovered the serious threat reported by Jill Grant had not been logged or updated properly.
The counter-corruption unit was called in and Rae's home in Fenwick was raided and searched.
He admitted making no crime report, entering other officers' beats and trawling force computers without authority.
The Crown Office said reports were still being considered against two men, aged 31 and 51, in connection with alleged offences in 2012.