Glasgow bin lorry crash: Witnesses describe 'horrible scenes'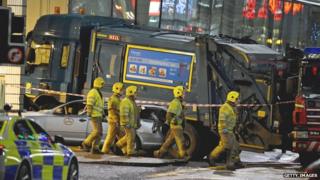 Eyewitnesses have told of the "horrible scenes" after a bin lorry crashed into pedestrians in central Glasgow, killing six people and injuring several others.
The vehicle had careered out of control before crashing into the Millennium Hotel in George Square.
Comedian Janey Godley was on the scene shortly afterwards.
She tweeted: "Utter horrific carnage, people on ground getting triage, street poles smashed into pavement, emergency services all over it.
"I was at G square in immediate aftermath it's not something I ever want to see again."
She told the BBC News Channel that she saw three people being treated by emergency crews.
'In shock'
She said: "People were being worked on, people were fighting for their lives on the pavement as shoppers were standing.
Ms Godley added: "It was the most horrible thing to watch all the ambulances and the people in the street, and yet the fairground in the background, and people just in shock."
Describing the scene on Twitter, eyewitness Brett Molloy said: "Horrible, horrible scenes. Even worse at this time of the year.
"City centre is an eerie, eerie place right now."
Anjan Luthra witnessed the crash.
He told BBC News: "I work in George Square and had nipped out for lunch, and was in the queue in Greggs. All of a sudden I heard this screaming and quite a consistent racket.
"I ran out of the store and right directly across from me, I was just watching a very, very heavy bin lorry just flatten bodies on the pavement. It was driving along the pavement and taking everything along with it, and then it went across the street.
"Immediately people started calling 999, and started directing traffic.
"There were two bodies right in the centre of the T-junction who were getting CPR (cardiopulmonary resuscitation) mouth-to-mouth and there were some bodies that were so fatally injured that you couldn't really do anything."
'Horrible scene'
Another eyewitness, Stephen McNeil, said: "I was coming out of a shop and we looked over to the left and we saw this woman screaming and this man on the floor.
"We looked around the road further and we seen this bin lorry just mounting the kerb going left to right, just hitting people where they were standing.
"Such a horrible scene."
Angela McManus, a reporter with The Herald, said: "We ran down and went down to the street and at that point... there were bodies lying on the road. It was pretty bad.
"There were hundreds of Christmas shoppers, obviously the school holidays had just finished up on Friday night so there were lots of young families, people everywhere.
"The ice skating rink and the carnival are at George Square so there were hundreds and hundreds of people.
"People just looked stunned. There were screams, sirens, no one really knew at first what had happened."