George Square attractions reopen after crash in Glasgow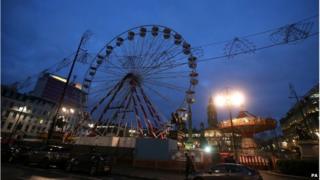 Festive attractions in Glasgow's George Square have reopened after the lorry crash which killed six people on Monday.
Fairground rides are expected to begin at 12:00, as the city begins to return to normal.
Four people remain in hospital, including a 14-year-old girl and the 57-year-old driver of the bin lorry.
After the incident, the fairground and nearby ice rink remained closed as a mark of respect.
Jack and Lorraine Sweeney and their grand-daughter Erin McQuade were killed, along with Jacqueline Morton, Stephanie Tait and Gillian Ewing, when the cleansing department vehicle apparently went out of control.
A spokesman for Glasgow City Council, said: "Glasgow City Council, in cooperation with partner agencies, took the decision to reopen George Square in a phased approach which began by providing access to the nativity scene and Christmas Tree.
"It was felt right to reflect on the tragic events that unfolded and close other attractions and activities until Boxing Day, providing a chance for people to pause and pay their respects in their own way over the Christmas period.
"We hope that by taking this approach, we can find the right balance between the need to pay our respects to those who have lost their lives and getting Glasgow back to some sense of normality."
As well as the 14-year-old girl and the 57-year-old driver, an 18-year-old woman and a 64-year-old woman also remain in hospital. All four are in a stable condition.
Prayers were said for the victims of the crash at Christmas Day services across Glasgow and Scotland. Six candles were lit at religious services in the city to remember those killed.
The victims have also been remembered at Friday prayers at Glasgow Central Mosque.
Police Scotland is conducting a "thorough and exhaustive" inquiry into the crash.
Officers stressed there was nothing to suggest it was "a deliberate or malicious act", but appealed for any footage of the incident from mobile phones or other equipment to be sent to police.