City museums acquire long-lost art work 'Glasgow Fair'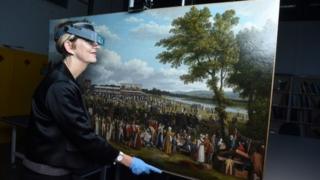 Glasgow Museums has acquired a huge oil painting that was thought to be missing for more than 100 years.
Glasgow Fair, by Paisley-born artist John Knox, is a detailed landscape depicting local people celebrating the holiday on Glasgow Green in the 1820s.
It turned up at auction in London in 2013, where it was billed as a work by Irish artist William Turner de Lond, depicting a fair in Aberdeen.
It was subsequently recognised as the long-lost Knox work.
The painting, which was bought with the help of the Heritage Lottery Fund, Trustees of the Hamilton Bequest and Friends of Glasgow Museums, will go on show at Kelvingrove Art Gallery and Museum, at the beginning of February.
'Visually striking'
Chairman of Glasgow Life, which operates the city's museums, Councillor Archie Graham, said: "John Knox's Glasgow Fair is a painting that belongs to Glasgow and we are delighted to welcome it home to the city.
"The visually striking work has great relevance for the people of Glasgow as it was painted by a local artist, who lived in the city for most of his life.
"It shows Glaswegians enjoying themselves at the Glasgow Fair, in the city's oldest park. It also helps us understand the historical importance of a holiday many of us still enjoy every July."
Cllr Graham said the painting would be "an immediate draw" for visitors.
"They can learn lots more about the painting and the artist through a programme of events and activities that will accompany its display at Kelvingrove," he said.
The detailed painting illustrates people celebrating the city's annual holiday on Glasgow's oldest common at a time of industrial expansion.
The painting features booths, sideshows and rides, together with more than a thousand figures, bringing together rich and poor, soldiers, street vendors and beggars.
Heritage Lottery Fund manager for Scotland, Colin McLean, said: "This painting is striking to look at and provides an important window into the social heritage of Glasgow.
"We are delighted to be able to provide our support for its acquisition and are sure that, given its new accessibility in Kelvingrove, it will be a source of great discovery and delight for people of all ages."