Beer maker Arran has plans approved for sake brewery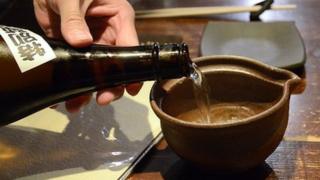 Permission to build what is claimed to be Scotland's first sake brewery has been granted by North Ayrshire Council.
Beer-makers Arran Brewery purchased the site, at Dreghorn, from the council.
The plans include a bottling facility, a beer hall, a brewing school, and a research and cultural centre on the site of a former primary school.
Almost all the sake, an alcoholic beverage made from fermented rice, will be sold in Japan, where Arran Brewery currently sells beer.
The visitor centre, which aims to attract about 30,000 visitors a year to the area, will house permanent exhibitions showcasing Japanese art, culture, and distilling history.
The brewers hope to employ about 30 people on the site.
'Exciting times'
In November the owners had trouble with thefts and vandalism, Arran Brewery said they had four break-ins in as many weeks, which cost them more than £60,000.
But managing director Gerald Michaluk said the site was now being refurbished and would be restored to its former glory.
He said: "We are very pleased to have received planning permission and will now be seeking building warrants so work can start in earnest.
"These are exciting times for craft breweries and especially Arran Brewery which has done particularly well with the success of Arran Blonde, Scotland's best-selling packaged craft beer".
International influence
Brewery equipment, including rice boilers, is being imported from Japan for the project.
The brewery will use Japanese varieties of rice, that is grown in the USA.
Arran Brewery has close links with Europe's first sake producers, the Norwegian firm Nogene, who visited Scotland in December.
Speaking at the launch of the project last year, Mr Michaluk said: "It may not at first appear there is a connection between Dreghorn, near Kilmarnock, and Japan but there is.
"In Japan you will find a small piece of Scotland in the form of a church which once graced Dreghorn but which was dismantled and rebuilt in Tokyo."