First Milk: Payment delay 'will hit island farmers hardest'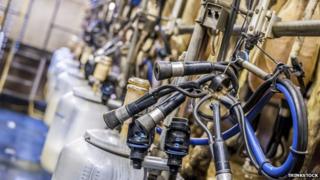 A dairy farmer on the island of Gigha has said she fears remote rural and island communities will be hit hardest by the financial crisis at First Milk.
The dairy co-operative told farmers on Monday that their payments would be delayed by a fortnight.
But Emma Dennis, 45, said small island dairy farmers like her have no option but to continue with First Milk.
She told BBC Scotland the situation was "very worrying" and could force farmers out of the industry.
"There's no cushion at all, " she said. "We can't say 'Well to hell with First Milk lets go with somebody else' - not down here.
"We're out on a limb. We're stuck with First Milk and that's it, so we'll have to suffer them."
Transport costs
Ms Dennis, who runs the Tarbert dairy farm at the north end of the island with her brother Mark, said the costs of transporting their milk from the island to the mainland came to about £100 every second day.
This, in addition to shipping in feed for her 90 cattle, makes the cost of dairy farming higher for her and the other four dairy farms on the island than farmers on the mainland.
With the recent bad weather cancelling ferries between the island and the Kintyre peninsula, she has also been forced to throw away three days worth of milk as she had no means to deliver it.
"We've been asking people on the island if they want any for free, seeing as it's going down the drain anyway," she said.
It is not the first time transport problems have forced Tarbert Farm to dump produce.
Back in December they were forced to get rid of three days worth of milk due to similar problems with the ferries, and while she is hopeful that the boats will restart on Tuesday or Wednesday, the signs are currently not looking good.
Payment delay
She has been told by First Milk that she will be paid on the 26th of this month, but it will still be only half of the payment she was expecting.
"The delay on payment is not going to be easy, but there's nothing you can do about it", she said.
"It's a struggle and there's other people still waiting on their money. I'm lucky that I'm just a small case.
"There are people that are milking 300 or 400 cows a day and they've been left in a terrible mess, because they have triple the costs that I have."
The fall in milk prices, from 32p or 33p per litre back in August to the current price of 18p to 20p per litre, has forced the dairy to tighten its belt, and while Ms Dennis says she blames the supermarkets, she feels First Milk should have set a limit on the minimum price for milk rather than being dictated to by the supermarkets.
"When we had the milk marketing board - one cooperative - we were never in this mess", she said.
"They're saying that this downfall is only going to last a year, so here's hoping that something will change by August.
"It will put a strain on a lot of farmers and it will put a lot of farmers to the door.
"I just hope I'm not one of them."