Craig Whyte back in court over Ticketus cash judgement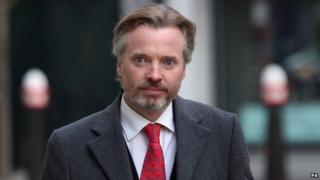 Former Rangers owner Craig Whyte has attended another court hearing in London amid ongoing efforts by Ticketus to recover about £18m damages from him.
The hearing at the Royal Courts of Justice was held in private on Tuesday.
The judge was thought to be analysing Mr Whyte's finances.
Ticketing firm Ticketus successfully sued Mr Whyte for damages in 2013 over his part in the takeover of the Ibrox club in 2011.
Ticketus had said Mr Whyte fraudulently or negligently made representations which induced the company to enter into agreements related to the sale or purchase of Rangers season tickets.
Enforcement activity
Mr Whyte had disputed the claim - but a judge had ruled against him.
Ticketus has said that the latest stage of legal proceedings involved its "continued activity to enforce" the damages order.
Mr Whyte, who will turn 44 on Sunday, last appeared at the High Court in relation to the dispute in December - at an open court hearing before a different judge, Mr Justice Newey.
The judge heard at the December hearing that Mr Whyte had failed to attend a hearing earlier in 2014 and had been made the subject of a "suspended committal order" - under which he could have been jailed if found to be in contempt of court.
But Mr Justice Newey discharged that committal order at the December hearing - lifting the threat of jail - after lawyers for Mr Whyte said he had been out of the country and would co-operate.
Mr Justice Newey said in December that the next stage of proceedings would involve an examination of Mr Whyte's finances at a private hearing.