Andrew Smart jailed for stripping drunk woman in Glasgow pub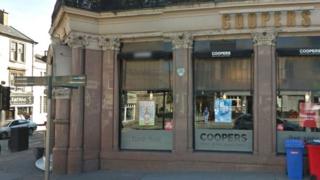 A man who kissed, touched and partially stripped a woman in a busy Glasgow pub while she was too drunk to consent has been jailed for 22 months.
Andrew Smart, 31, from the city's Yoker area, was captured on CCTV assaulting the 25-year-old woman in Coopers Bar on Great Western Road on 25 February 2012.
Smart was caught after other people in the pub reported the incident to staff. He later admitted sexual assault.
Smart will be supervised for six months after his release.
Glasgow Sheriff Court heard that the woman had been socialising with friends that day and they went on a Subway pub crawl - visiting pubs at Subway stations around the city.
No memory
The group ended up in Lismore pub on Dumbarton Road and the victim cannot remember much after that until she woke up in hospital hours later.
The court was told the friends got separated and at about 21:30 when the victim and another friend went to Cooper's bar near Kelvinbridge.
Smart and his friend were already there and began chatting to the women.
Later in the evening the victim kissed Smart outside the pub when they went out to smoke.
However, once their friends had left, other revellers in the pub later complained that "a couple were behaving inappropriately".
CCTV then captured Smart taking advantage of the woman when she was too drunk to sit up by herself.
He was seen touching her intimately over her clothes and virtually holding her up while kissing her.
Smart was later seen taking the woman's boots off, her trousers and her underwear, leaving her naked from the waist down.
At this point a member of staff moved him away from the woman and told him to stay in the pub .
Smart left, however, but was later traced through the CCTV footage and witnesses in pub.