Scots conference looks at 'dire' refugee crisis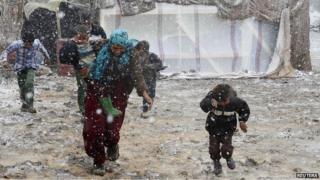 The Scottish Refugee Council said the global refugee crisis has "never been more dire or more critical".
The charity is holding a conference in Glasgow to discuss Scotland's role in supporting people displaced by conflict, persecution and torture.
United Nations figures showed 16 million people have been forced to flee their homes in search of safety.
There are now over 3.7 million registered Syrian refugees according to the UN refugee agency.
The Scottish Refugee Council Council is hosting the conference at the City Chambers in Glasgow.
'Long history'
Humza Yousaf, Minister for Europe and International Development, who will be speaking at the event, said: "Recent global events, such as the crisis in Syria, have demonstrated that now, more than ever, the world needs countries like Scotland to act with compassion as a good global citizen.
"Scotland has a long history of welcoming refugees and asylum seekers, and when people turn to us for help, we want to be there.
"We continue to press the UK government to improve the experience of refugees, and we will work to secure more powers for Scotland to support our humanitarian efforts."
John Wilkes, chief executive of the Scottish Refugee Council, said: "The situation facing refugees around the world has never been more dire or more critical.
"As Scottish Refugee Council celebrates its 30th anniversary this year we hope to build on the energy that people brought to the debate about the future of Scotland, and collectively push for a better, fairer, more humane approach to asylum in an increasingly interconnected world."