Water damages exhibition at Glasgow Gallery of Modern Art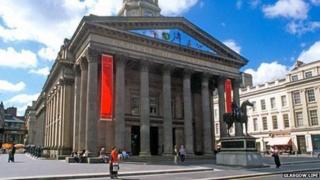 An exhibition space in the Gallery of Modern Art in Glasgow has been closed until further notice after water damaged an exhibition.
The works are within Nathan Coley's "The Lamp of Sacrifice" exhibition and are on loan from the National Galleries of Scotland.
Glasgow Life, which runs the city's museums, said it had launched an investigation into the incident.
A spokesman said it was working with the artist to assess the damage.