McGill's Buses to pay £10,000 to coach fall pensioner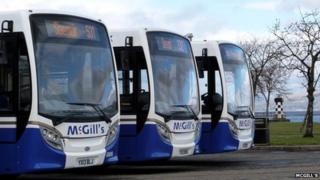 A bus firm has been ordered to pay £10,000 compensation to an elderly woman who was hurt when a driver pulled away from a stop before she was seated.
Mary Steel, 82, fell and injured her shoulder on the McGill's coach, from Braehead shopping centre in Renfrewshire to Dunoon, in May 2013.
Her lawyers said the injury caused her pain and depression.
A judge at the Court of Session in Edinburgh said the driver was at fault and the bus firm was liable.
Judge Lady Stacey ruled that Mrs Steel was entitled to compensation.
Law 'breach'
She added: "In my opinion the defender's driver failed to ensure that a passenger who had been seen by him to be elderly and unsteady was seated before moving off.
"In doing so he acted contrary to the defenders' policy and in breach of common law.
"The movement of the bus while the pursuer was not seated caused her to lose her balance and fall. I find the defenders liable to the pursuers."
McGill's Buses is Scotland's largest privately-owned bus company, operating about 350 buses across more than 40 routes, mostly in the Inverclyde, Renfrewshire and East Renfrewshire areas.
It employs about 700 staff from the company's four depots in Greenock, Inchinnan, Johnstone and Barrhead.
The firm is owned by brothers Sandy and James Easdale.