Threats against Rangers director Sandy Easdale investigated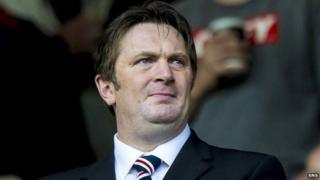 Rangers director Sandy Easdale has said police are investigating threats made against him amid the ongoing and acrimonious battle for the Ibrox club.
Officers are believed to be monitoring his home after internet posts allegedly urged fans to attack his house in a bid to remove him from the club.
Mr Easdale, 47, said he had also received threats by email and letter.
Last week, several hundred fans protested outside Ibrox stadium against the current Rangers board.
In a statement released to the BBC, Mr Easdale said: "I have received several threats that are now in the hands of the authorities and I am confident that Police Scotland will get to the bottom of this.
'Violence and intimidation'
"I appreciate that feelings are running high but I would like to make an appeal for calm.
"This sort of behaviour is not in the best interests of the club, its shareholders or its true supporters."
Mr Easdale said members of the Rangers board had been "subjected to an unprecedented level of abuse".
"People are entitled to air their views but I hope that all parties will agree that violence and intimidation are unacceptable," he said.
"All I want to see is the best possible outcome for Rangers."
Police Scotland said it did not comment on operational details.
Various fans groups have voiced opposition to the Rangers board for some time amid ongoing financial problems.
It is understood that the club cannot pay this month's wage bill and needs immediate funding.
A £10m loan has been offered by Mike Ashley, the owner of Sports Direct and Newcastle United, who holds an 8.92% stake in Rangers International Football Club - the football club's holding company.
In return, Mr Ashley wants security over Ibrox stadium and its Murray Park training complex - a move that has enraged some fans who say the stadium should never be in danger of being taken away from the club's control.
About 600 supporters demonstrated before and after the club's abandoned Championship game against Hearts on Friday.
Following reports of disturbances, police arrested one man and said they expected to make more arrests after studying CCTV footage.