Archbishop Philip Tartaglia has heart attack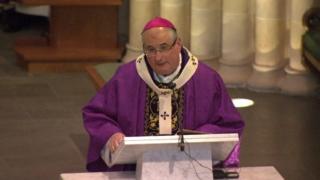 The Roman Catholic Archbishop of Glasgow, Philip Tartaglia, has suffered a heart attack, the church has confirmed.
The archbishop, who is 64, was admitted to hospital in Salamanca on Thursday.
Following initial treatment and tests at the university hospital in the Spanish city, it was confirmed that he had suffered a heart attack.
The church said the archbishop was "conscious and in good spirits".
A spokesman for the archbishop said he had undergone tests and a "minor medical procedure".
He added: "It is hoped that Archbishop Tartaglia will be able to leave hospital in a few days and return to Scotland as soon as is possible."
The Scottish Bishops are currently attending an in-service week at the Scots College in Salamanca.
Archbishop Tartaglia is President of the Bishops' Conference of Scotland.