Aye Write: Hawking and Welsh set for Glasgow book festival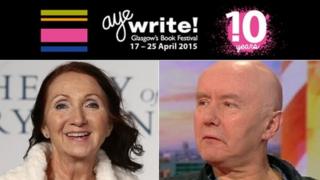 Controversial writer Irvine Welsh and the former wife of renowned physicist Stephen Hawking are to appear at this year's Glasgow book festival Aye Write.
Welsh will introduce what is being tipped as his funniest, filthiest book yet, "Decent Ride".
Jane Wilde Hawking will discuss her memoir, "Travelling to Infinity: My Life with Stephen" on which the film, "The Theory of Everything", is based.
The 10th Aye Write festival will be held in Glasgow from 17-25 April.
Irvine Welsh described Glaswegians as "some of the funniest, most generous people you could ever wish to meet".
He said: "I'm looking forward to reading from my latest novel Decent Ride in Glasgow and seeing what they make of Juice Terry."
McCall Smith
Comedian Omid Djalili will return to the festival with his autobiography, "Hopeful" and fellow comedian, Helen Lederer, will talk about her debut novel, "Losing It".
Another returning writer is Alexander McCall Smith, creator of the The No. 1 Ladies' Detective Agency series. He will talk about his latest work, "Fatty O'Leary's Dinner Party".
Scottish actor Alex Norton showcase his autobiography, "There's Been a Life", which charts his journey from the streets of Glasgow to staring alongside Johnny Depp in Pirates of the Caribbean.
Upcoming Glaswegian writer Kirsty Logan, author of The Gracekeepers, who also appear, along with Everything But The Girl singer Tracey Thorn, Patrick Gale and host of the BBC's Beechgrove Potting Shed, Theresa Talbot.
Aye Write guest programmer, Bob McDevitt, said: "Over the past 10 years the quality of the festival has continued to grow, meaning we can attract celebrated authors and speakers to the city to entertain a wide audience."
The full Aye Write programme will be announced in March, when tickets will also go on sale.
Chair of Glasgow Life, councillor Archie Graham, said: "We are excited about bringing so many renowned authors to Glasgow to help us celebrate Aye Write's 10th birthday.
"This is a fantastic sneak peak at some of the big names set to come to the city and it leaves me looking forward to seeing the full programme."