Scottish Labour commits to funding of Glasgow Crossrail scheme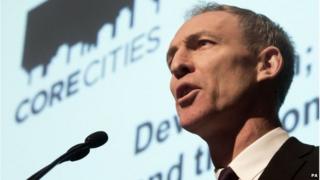 Scottish Labour has committed to funding the Glasgow Crossrail scheme if it wins the 2016 Scottish election.
The party's leader, Jim Murphy, told a conference in the city new Holyrood borrowing powers should be used to fund the project.
The multi-million pound scheme would link services from the north and east of the region to those in the south and west.
Mr Murphy described the project as the "missing link" in the rail network.
Currently the northern railway network terminates at Queen Street station and trains from the south end at Glasgow Central.
Plans to create the infrastructure for Glasgow Crossrail, which would see the building of three new stations, have been mooted for years, with previous cost estimates ranging from £115m to £200m.
It would potentially carry up to four million passengers a year, and according to Strathclyde Partnership for Transport could create up to 130 new jobs over 10 years while contributing £36m to Glasgow's economy.
Mr Murphy made the commitment at the Core Cities conference in Glasgow, which saw the launch of a charter demanding more devolution and tax raising powers for cities across the UK.
'Lack of ambition'
He also called for Glasgow and Edinburgh to be a "twin city powerhouse" so they could compete with the likes of London and Greater Manchester.
Mr Murphy said he had asked the leaders of Scotland's two biggest councils to come up with new joint proposals that would create an economic hub in the central belt, as part of a nationwide city strategy.
He said: "For too long our cities have been held back by a lack of ambition, a lack of funding and a lack of freedom.
"I have asked Andrew Burns and Gordon Matheson, the leaders of our two biggest cities, to work with Andrew Adonis, one of the most interesting thinkers on the future of cities, to work on this strategy and to report to me before the end of this year.
"In particular I have asked them to examine how we can turn our biggest city and our capital city into the economic powerhouse it should be, an economic hub to rival the established power of London, the emerging influence of Greater Manchester and the other dynamic City Regions across the country and continent."
'Partnership'
The Scottish government's infrastructure minister Keith Brown also spoke at the conference, and announced £11m in funding to make Scotland's city's "smarter".
He said the money, which comes from European funding, would be set aside to provide "cutting edge technological infrastructure" in the country's seven cities, so they are better equipped to rival European technology centres such as Barcelona and Amsterdam.
Mr Brown also called for a cities convention that would give more power to local communities.
He said: "The Scottish government's approach is one of partnership with local government - it is an approach that varies substantially from that taken in some other parts of the UK and is based on a shared vision of strengthened community planning, engagement and empowerment."
Last year, Glasgow signed a City Deal with the UK and Scottish governments, bringing in £1.3bn of extra investment.