Clutha crash: Sturgeon concern over AAIB investigation delay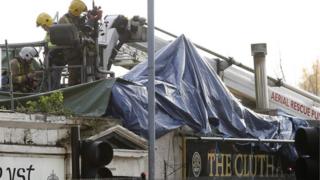 The Scottish first minister has raised concerns about progress in the Clutha helicopter crash investigation.
In a letter to Prime Minister David Cameron in December, Nicola Sturgeon said there had been a "dearth of information flow".
She urged him to ensure investigators complete their inquiry as soon as possible.
Ten people died when the Police Scotland helicopter crashed into the Clutha bar in November 2013.
An interim report from the Air Accidents Investigation Branch (AAIB) in April 2014 found that both engines in the craft had failed, but did not set out the cause.
In November, the agency said it still needed "several weeks" to complete its investigation.
However, the first minister's letter said the final report was now not expected until "mid 2015", thus delaying the work of prosecutors in Scotland.
'Lack of respect'
In her letter, the first minister said the solicitor general for Scotland had expressed concern at the "dearth of information flow and lack of respect for and understanding of the obligations of the Crown Office and Procurator Fiscal Service and the police in relation to this investigation, and in particular in relation to the bereaved families".
She added: "Practically speaking, the procurator fiscal is unable to move on their investigations into this matter until the AAIB publishes its final report in mid 2015.
"That risks delay in any decision about criminal proceedings and the holding of a Fatal Accident Inquiry which I am sure you will agree is an unsatisfactory position."
The letter, which was published in a newspaper, went on: "I share the solicitor general's concern and would ask you to do all you can to ensure AAIB progress their investigation as quickly as possible and that they ensure a smooth flow of information between the AAIB and the procurator fiscal."
The crash killed helicopter pilot David Traill and police constables Tony Collins and Kirsty Nelis, who were on board.
Those killed in the pub were John McGarrigle, Mark O'Prey, Gary Arthur, Colin Gibson, Robert Jenkins, and Samuel McGhee. Joe Cusker was pulled from the wreckage alive but later died in hospital.
In his reply, dated 15 January, Mr Cameron said the Department for Transport and the chief air inspector had assured him that the AAIB would be "open and cooperative" in its investigation.
He added: "I understand that a meeting was held between the AAIB and the Crown Office and Procurator Fiscal Service on 11 December 2014 which was very productive."