NHS Greater Glasgow and Clyde defend decision to barricade brain injury patient in room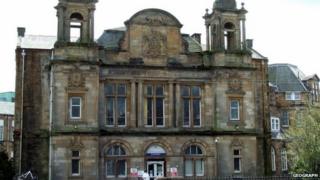 NHS Greater Glasgow and Clyde has defended the decision to barricade a patient inside his room after finding his needs 'challenging'.
Bill Douglas, 59, had been a patient at Glasgow's Victoria Infirmary for four months after suffering a brain injury in October.
His family said they arrived on Friday evening to find a table and plank of wood placed across the door.
Brain injury charity Headway have condemned the action as 'dangerous'.
NHS Greater Glasgow and Clyde said: "While we did not necessarily condone the measures adopted to block the door, we understand that our nursing staff only arrived at this solution after a series of very challenging events.
"Staff had sought advice from the violence and aggression co-ordinator prior to responding in this way.
"They also had ongoing specialist input from a number of senior clinicians involved in his care."
Investigation call
But Headway criticised the hospital's handling of the situation and called for an urgent investigation into the case.
A spokesperson for the charity said: "It can never be deemed acceptable to barricade a patient in a room - particularly one who has sustained a severe brain injury, which can lead to problems with cognitive, emotional, and behavioural functioning.
"It is difficult to understand how hospital staff felt it was appropriate to leave a brain-injured patient unsupported in a locked room, with just a note on the wall saying 'you've hit your head'."
The NHS board confirmed that Mr Douglas had now been moved to a "more appropriate care facility".
'I nearly fainted'
Mr Douglas's family said they were "horrified" when they saw the hospital's attempt to prevent their relative from leaving his room, and found no staff looking after him.
The patient's sister Morag Douglas told the Daily Record: "I nearly fainted because the door was shut over and there was a block of wood covered with a white sheet and a table across it to keep Bill in.
"The wood was there to stop the handle being pulled down.
"The water in his room was also turned off because he had turned the taps on at the sink, flooded the place. So he can't get a drink or wash his hands."
She said that she feared the hospital had taken the action to barricade her brother in, because they did not have the necessary specialised staff to care for him.
Complaint made
A former police mechanic, Mr Douglas had first been taken to the South General Hospital after falling and suffering a severe head injury in Glasgow city centre in October.
But four weeks later the 59-year-old emerged from a coma and was moved to Glasgow's Victoria Infirmary, where the family thought he would be going for rehabilitation.
The family said they had made a complaint about Mr Douglas's treatment to the Care Inspectorate.
NHS Greater Glasgow and Clyde confirmed they had received a formal complaint, which they said they were addressing.