Foster carer killing: Inquiry opens into Dawn McKenzie death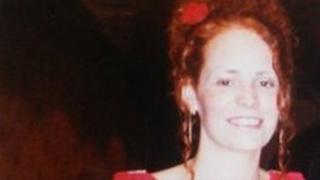 A woman who was killed by her 13-year-old foster child had been left "high and dry" by the social work department, her husband has told an inquiry.
Dawn McKenzie, 34, was stabbed by the teenager in her home in Hamilton in 2011.
The boy was detained for seven years after admitting culpable homicide on the grounds of diminished responsibility.
A Fatal Accident Inquiry is being held into the circumstances of the case.
Mrs McKenzie and her husband Bryan, 40, who did not have children of their own, began looking into fostering in 2010 after she saw a newspaper advert and told her husband it was something she was interested in.
She had previously worked at a private nursery in East Kilbride and had been promoted to deputy manager before applying to become a foster carer.
'New challenge'
Mr McKenzie, a joiner, told the inquiry in Motherwell: "She felt she had a lot more to give. She had really taken herself as far as she could as a nursery nurse.
"She had a real affinity with kids and she wanted to help. This was the logical next step for her and I was supportive of her."
Mr McKenzie said of their decision to foster: "We saw it as a new challenge for both of us."
He said they were initially delighted to have been approved as foster carers in October 2010 and within weeks they were asked to take the boy as their first placement.
However, the inquiry heard that the transition was handled badly due to the haste with which the boy's previous placement ended, as well as travel chaos caused by 2010's severe winter weather and the boy's social worker going on annual leave.
The boy was previously placed with his two sisters but this ended abruptly after the carer's father became ill, and he was separated from his sisters and sent to live with the McKenzies.
Mr McKenzie told how the boy was quiet at first but seemed normal given his circumstances, and Mrs McKenzie described him as a "lovely boy" in early reports.
But he later emerged to be "a compulsive liar, telling lots of tall tales", Mr McKenzie said.
A handover booklet from the previous carer revealed how he used to eat with his hands but the booklet said he had improved.
Mr McKenzie said: "That wasn't very accurate as he still didn't know how to use a knife and fork."
'Absolutely ridiculous'
He said if they had known more about the boy's background they would have still have taken the placement, but would have been "more cautious and better armed".
A note from the boy's supervision record, read out at the inquiry, stated: "Dawn and Bryan had just been approved as carers and have taken (the boy) as placement at short notice.
"Due to the ending of his placement with another FCA carer the decision to move (the boy) was taken with such expediency due to the other carer's circumstances, and therefore was not managed as well as it could have been with little planning or preparation for (the boy).
"Dawn was advised that this is not what FCA would have wished to take place. However, given the circumstances, this is what we now have to deal with."
Mr McKenzie said: "Reading it back, it's absolutely ridiculous. 'He's not here, she's not here'. How is anything supposed to get done if that is the carry-on?
"It's a joke. We were left high and dry, basically. It's ridiculous.
"I was back at my work after two days. The weather wasn't that extreme."
The inquiry heard that the couple had been keen to foster one or two children up to 16 years of age as Mrs McKenzie was keen to work with school-age children to extend her experience.
The pair under went extensive checks on their background, health, finances and home safety.
A feedback form from a training course stated that Mrs McKenzie showed "excellent knowledge and understanding" and a reference from her employer described her as an "excellent child practitioner".
Fiscal depute Carrie Macfarlane asked Mr McKenzie about a reference in the documents to the appropriate storage of kitchenware and where they kept their kitchen knives.
He said they were stored in a drawer with a child-proof lock on it.