New Scottish Airshow set for Ayrshire in September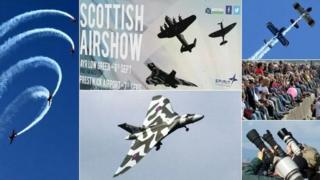 The Scottish Airshow which returned in 2014 after a 22-year absence is to take place again in Ayrshire in September.
Organisers are promising a bigger and better event over the weekend of 5 and 6 September after agreeing a funding deal with South Ayrshire Council.
Events will take place at Low Green, in Ayr, and at Prestwick Airport.
More than 50,000 people attended last year's airshow, which featured a Vulcan bomber, the Blades aerobatic team and helicopter and parachute displays.
Bob Alexander, chairman of the Scottish Airshow committee, said last year's event "brought millions of pounds into Ayrshire" and this year would be even better.
"The breakthrough in this agreement with South Ayrshire Council is that we have been guaranteed a level of funding which will allow us to increase the size and quality of the whole event in 2015," he said.
"We have plans to build the trade and industry involvement in the years to come.
"We anticipate an increase of 50% in the number of people coming to Ayr on Saturday 5th September."
'Fantastic time'
Mr Alexander said Prestwick Airport was "making plans for an increase of 100% attendance on Sunday 6th September".
The committee chairman said the potential was there to make the airshow the biggest outdoor event in Scotland and "one of Britain's best aviation festivals".
He added: "This is a fantastic time to be at the heart of Scottish aviation."
South Ayrshire Council leader Bill McIntosh said last year's airshow was "a resounding success" and he was hopeful this year's show would build on that.
"Attracting locals and visitors from all over Scotland, the UK and further afield last year, so many people had a fun-filled day, enjoying the displays and aviation activities in a great family atmosphere and I am sure that will be repeated this year," he said.
"Events such as this one are good for our local economy, with local businesses enjoying the benefits."