Esso makes M74 'contamination' claim against Scottish government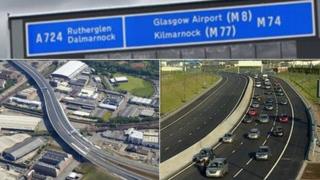 A major oil firm is suing the Scottish government over claims its property is being contaminated by chemicals from land used for the M74 extension.
Esso Petroleum wants ministers to take action to prevent further escapes and is seeking damages for the cost of monitoring its land and loss of value.
The firm claims it will cost £1.6m to clean the West Street site in Glasgow.
Ministers sought to have the action dismissed but a judge at the Court of Session said it could proceed.
Lord Doherty said: "It avers the existence of a continuing nuisance and that the first defenders (the Scottish Ministers) are not merely the proprietors but also have statutory responsibility for the management and maintenance of the M74 land."
Groundwater claim
Esso owns a site at West Street, south of the River Clyde, where a filling station was in operation until about 2013.
The Scottish government acquired adjacent land from a chemical firm in 2004 to help complete the M74 link.
Interlink M74 JV carried out the construction of the project to deliver the five-mile stretch of motorway.
Esso claims that as a result of those operations, hazardous chemicals present on the M74 land were released into the groundwater system and contamination of its site occurred.
It maintained in its action: "The contaminants have flowed and are continuing to flow from the M74 land on to the site."
Esso claimed that if the government failed to take removal and remedial measures it would have to do so at a cost of £1.6m.
It contended that the value of the site had fallen by £350,000 because of contamination.
Relevant pleadings
It also said it has run up costs and will continue to do so over site investigations and monitoring.
The oil firm is also seeking damages in the action it has brought against the Scottish government and others.
It said that trichloroethene continues to enter the site from the M74 land.
Scottish ministers claimed that Esso had not made relevant pleadings of fault on its part.
It said it had engaged competent independent contractors to carry out the M74 completion works.
Esso maintained that the ministers were responsible for the alleged nuisance created by, and negligence of, the joint venture.
Lord Doherty said: "I do not think it can properly be concluded, without proof, that the operations must necessarily fall outwith the 'inherently hazardous' category."