PC told John Campbell of wife's death in Cranhill Park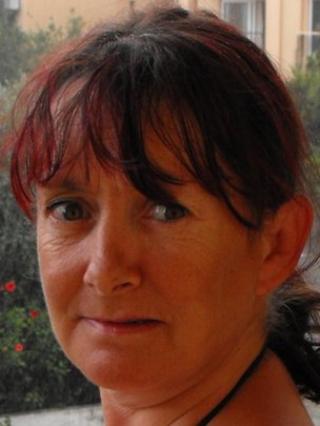 A policeman had told a court how he broke the news to a man that his wife had died after she was found fatally injured in a Glasgow park.
PC Stewart Taylor told an examination of facts hearing at the High Court in Glasgow that John Campbell replied that he "thought that was the case".
Paul Ward denies killing Jean Campbell, 53, by striking her with a dog lead in Cranhill Park on 13 December 2013.
Mr Ward, 21, has been deemed unfit to stand trial on mental health grounds.
He is currently detained at the State Hospital at Carstairs.
Evidence is being heard at an examination of facts hearing, at the end of which, judge Lord Matthews, will determine if Mr Ward committed the offence.
The court has heard that Mrs Campbell's body was found before 09:00 on 14 December 2013 by her husband John.
The nightshift worker was worried when he came home to find her and their German Shepherd dog Kai missing. He searched where she normally walked the dog.
No signs of life
In his evidence PC Taylor told the court that he received a call at 07:42 on 14 December 2013 to attend at the park
He told advocate depute Alex Prentice QC that he was the first police officer on the scene and added: "There was a man in the fenced in area. He told me he was John Campbell and he was holding on to a young German Shepherd.
"There was a body. It was a female lying on her right hand side in the recovery position with a high visibility jacket over her lower half."
PC Taylor was asked by Mr Prentice: "Did you check for signs of life," and he replied: "I couldn't find any signs of life. I rolled her onto her back to commence CPR."
He was asked if there was any response and replied: "No."
The court heard that an ambulance arrived and the crew took over CPR.
PC Taylor said: "Other officers arrived and I detailed them to secure the scene."
He added: "Mrs Campbell was pronounced dead by the ambulance crew at 8.05am."
Mr Prentice asked: "Did you tell Mr Campbell," and PC Taylor replied: "Yes he stated that he thought that was the case."
The court has previously heard that Mrs Campbell, who was 4ft 11in and weighed six stones, suffered 11 broken ribs, a fractured thigh bone and extensive bruising to her head and body.
The cause of death was blunt force trauma to her head and body.
Two other people also told the court that they heard dog barks coming from the direction of the park at around 23:00 on 13 December 2013.
Sales assistant Martin McNab, 27, said he was walking along Bellrock Street towards Edinburgh Road when he heard barking around 23:10.
Mr McNab said he was listening to music on headphones, but heard the barking above that.
Possible sighting
He was asked where the sound appeared to come from and replied: "It appeared to come from where the alleyway leads into the park."
Lisa Aitken, 18, a hairdressing student, said she was walking to a party just after 11pm near to the Beacon Centre when she heard a dog barking.
She said: "It was near to the park where that woman was found dead."
Another witness, Shelby McPhail, 19, later told the hearing that murder accused Mr Ward said he might have seen Mrs Campbell the night she died.
Ms McPhail told the court that her former boyfriend, Thomas Leyden, 23, was a good friend of Mr Ward.
She said that on a couple of occasions, while in their company after the death of Mrs Campbell, Mr Ward claimed he might have seen her the night she died.
Ms McPhail was asked by prosecutor Mr Prentice: "Did you talk to Paul Ward about what happened to Mrs Campbell?" and she replied: "He just said he thought he had seen her that night, but it wasn't until a couple of weeks after that he said it. He said he might have seen her."
She was then asked if Mr Leyden had given Mr Ward any advice and she said: "He said' Don't go to the polis."
She added: "He said: 'Don't tell the polis that cause they'll think you've got something to do with it.'"
Ms McPhail also told the court she had seen Mrs Campbell hit her dog Kai "hundreds of times".
She was asked if Mr Ward had ever seen this and commented on it and replied: "Yes. He said it was sick the fact she hit the dog. It was a shame."
The hearing before judge Lord Matthews continues.