Dawn McKenzie FAI: Foster carer probe told of failings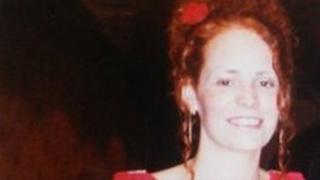 A man whose wife was killed by their foster child has told a fatal accident inquiry (FAI) that social work failures should be investigated "quite deeply".
Bryan McKenzie, 40, outlined concerns about the support the couple were given by Glasgow City Council staff.
His wife Dawn, 34, was fatally stabbed by the 13-year-old boy in their care in June 2011. He was detained for seven years after admitting culpable homicide due to diminished responsibility.
The FAI is examining the circumstances.
Giving evidence for a second day, Mr McKenzie said: "I have thought about it for four years and I can't think of anything we could have done differently."
Procurator Fiscal depute Carrie Macfarlane asked if others involved in the boy's care could have done anything differently.
'Very little information'
Mr McKenzie said: "I felt we were given very little information, particularly information we should have had to allow us to care for him, to know about his situation.
"It's just hearsay now, I could say a hundred things now, but at the end of the day what has happened has happened."
On Monday, the inquiry heard that the first months of the boy's placement were handled badly due to the haste with which his previous placement ended, travel chaos caused by 2010's severe winter weather and the boy's social worker going on extended annual leave.
On Tuesday, Mr McKenzie said: "I feel we were let down badly by the social services.
"I feel that the contact with the social work was poor and I think the (main social worker's) attitude toward the placement was lacklustre. I thought his attitude was lackadaisical."
Mr McKenzie said the fostering agency Foster Care Associates (FCA), now known as Core Assets, should also have given them more information about the boy's background.
When the couple finally received a background report about two months after the placement started, it emerged that when he was taken into care the boy had been sleeping on a trampoline, had no shoes, was living in a house frequented by drug addicts and had been subjected to "frequent acts of violence".
'Not acceptable'
Mr McKenzie said: "I think you should explore the social work quite deeply because it is just not working.
"Too many people are losing their lives and it can't go on, whether it is children or carers it's not acceptable."
Mr McKenzie told the inquiry that the day his wife was killed at their home in Hamilton, they had confronted the boy about arriving home three hours late after school on the last day of term before the 2011 summer holidays.
They abandoned their regular Friday-night activity of DVDs and "junk food" and the boy was sent to bed early.
He was already aggrieved about the confiscation of his phone and laptop after it emerged that he had been holding conversations with his birth family online.
Mr McKenzie said: "I decided to spend some time with Dawn's brother so we had dinner and I left the house about 7pm.
"He seemed ok and Dawn was sitting on the couch. We had a discussion about what had happened and he seemed to accept it."
The couple had agreed with the boy to wipe the slate clean of their previous difficulties and look forward to the summer holidays, he said.
"I said 'see you later wee man', ruffled his hair, gave Dawn a kiss and I left," he said.
"I wouldn't have left the house if I had any concerns, no way."