Parents seek opt-out for St Joseph's in Milngavie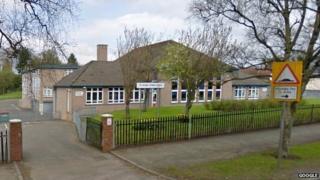 A group of parents fighting to save a Catholic primary school have launched an audacious bid to keep it open.
St Joseph's Primary School in Milngavie near Glasgow is to be amalgamated with another primary in nearby Bearsden.
A group of parents want to try to remove the school from council control so it would be funded directly by the Scottish government.
Both the Scottish government and the local council have poured cold water on this suggestion.
And the largest teachers' union, the EIS, was unimpressed.
However, at First Minister's Questions in the Scottish Parliament, Nicola Sturgeon told Scottish Conservative leader Ruth Davidson that she would be happy to meet the parents.
The parents say they want St Joseph's to become the first community-led school in Scotland.
Public meeting
The move received unanimous support at a Parent Council meeting earlier this week.
The parents say they will set out their plans in more detail at a public meeting soon.
They plan to try get support from all the political parties and the Archdiocese of Glasgow.
St Joseph's Parent Council Chair Laureen McIntyre said: "Our children have the right to a Catholic education in their own community.
"If East Dunbartonshire Council is unwilling to provide Catholic education in Milngavie then we as parents, as a parish and as a community seek support to do it ourselves."
Parent council Vice-Chair Helen Williams said: "East Dunbartonshire Council has walked away from its responsibilities to the Catholic community in Milngavie.
"The results of a survey issued by the Parent Council found that not a single family supports their plan to relocate our children to Bearsden."
Bearsden plan
The council plans to build a new denominational primary in Bearsden a few miles away - replacing both St Joseph's and the school on the site at present. The new school building is likely to be opened during the 2016-17 school year.
Parents at St Joseph's and the Catholic Church have been fighting the plan.
The plan was looked at by the Scottish government but it could only have stopped the closure if the procedure followed by the council was wrong or if the information used was incorrect.
In Scotland every mainstream state school is run by the local council apart from Jordanhill School in Glasgow, which is funded directly by the government.
The parents argue that Jordanhill's unusual status could help offer a solution for them.
Jordanhill is seen by many within Scottish education and the Scottish government as a special and unusual case - it used to be part of Jordanhill College of Education and has never been run by a local authority.
There is no mechanism in Scotland for schools to "opt out" of council control as can happen south of the border or for parents to take over the running of a state school.
During the 1990s schools could opt out - but only two did. They have since returned to council control.
Land and assets
East Dunbartonshire Council says it owns the school building and its other assets - and the teachers are employed by the council - although the parents argue they have a moral right to the current site.
That is because the original St Joseph's premises were built and paid for by parishioners and they may seek to have the land and assets held in trust.
However, policy experts have told BBC Scotland another potential option could be for the parents to set up a brand new independent school from scratch.
It would need to comply with various standards and regulations expected by the government but it could not rely upon the government for funding.
A Scottish government spokesperson said: "Local authorities are responsible for the provision of education in their areas. The Scottish Government supports local authorities to provide appropriate schooling to meet the needs of the communities they serve.
"The current governance arrangements have served, and continue to serve Scotland's schools well and there are no plans to change these or extend the current number of grant-aided schools funded by the Scottish government.
"Any decision on individual land and assets is a matter for individual local authorities."
'No mechanism'
East Dunbartonshire Council's Director of Education Gordon Currie said: "We have not had any approach from the parent council about proposals to run St Joseph's as a 'community-led' school.
"However, it is our understanding that there is no mechanism in Scotland that we are aware of that would enable the school to be transferred to parental or community control."
He added: "We will soon begin a consultation with the school community around the design of the new school, working towards opening the new building in 2017."
Any move to allow schools to leave council control would also be fought vigorously by the teaching unions.
The EIS said there was no strong political desire in Scotland to follow the English model of opted out schools and argued there were risks attached to removing schools from local authority control.
A spokesman for the union said: "While we appreciate the concerns of parents and understand their commitment to their school, there is no basis in Scottish statute for any school to opt out of local authority control."