Police officers concerned stop-search 'disproportionately prioritised'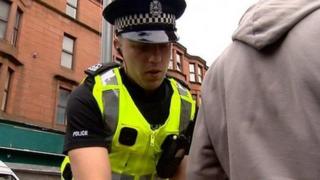 Police officers feel the controversial policy of stop-and-search has been "disproportionately prioritised" over other work, a report by the police watchdog has warned.
Her Majesty's Inspector of Constabulary in Scotland (HMICS) said that staff felt an emphasis on targets was having unintended consequences.
A fall in staff morale was also noted.
The inspection report focused specifically on Police Scotland's Ayrshire division.
It highlighted several causes for this, but cited that staff morale had been "adversely affected by the pace and nature of change" after the creation of the single police force in April 2013.
This mirrored the findings of an inspection of Police Scotland's Fife division last October.
HMICS also identified "constant pressure to achieve performance targets" as a factor impacting morale and highlighted that there was no appraisal system in place for constables and staff.
Morale was lowest for response and community teams and police staff, with the report identifying that staff cuts were affecting the ability of these teams to respond to calls.
'Constant pressure'
Response times for higher priority calls had not changed, but had risen by an average of around 15 minutes over the past 18 months for lower priority calls.
"We are of the view that these are potential early indicators of increasing pressures on the division's capacity to respond effectively to demand," the report said.
Some officers and staff also expressed concerns about an increase in bureaucracy that was affecting their ability to manage individual workloads.
Complaints against the police had risen in the area but remained "relatively low", HMICS found.
Public confidence in local policing was high and antisocial behaviour and disorder had significantly dropped across the area.
However, the number of people seriously injured on the roads increased by 17% between March and October last year, in contrast to an 8.3% reduction nationally.
HMICS has made several recommendations which call on Police Scotland to make progress on a consistent national approach to staff appraisal and ensure that statistical reports on police complaints are supplied to all local scrutiny committees.
The divisional commander is asked to review the roles of community and response policing teams, and take into account the views of officers and staff.
The Scottish Police Authority should also commission a planned Police Scotland staff survey "as soon as practicable" and ensure that it is done independently, the report said.
Communication issues
HM Inspector of Constabulary Derek Penman said the division was taking a "focused approach" to tackle the rise in serious injuries on the roads.
He said: "The division is not complacent in addressing crime and takes a problem solving method to tackle issues as they arise.
"They work well with their partners in the three local authority areas and their use of social media and the relationship between their campus cops and the young people from their communities are examples of good practice.
"But we found that opportunities are being missed for wider engagement between local officers and their communities.
"This may be linked to the consistent demands for community policing officers to support response policing and a review of this practice forms one of our recommendations to the divisional commander."
Mr Penman added: "Internal communication was an issue with some officers in Ayrshire expressing the opinion that Police Scotland currently is not upholding its own values in relation to staff and they sought more face-to-face communication with their senior officers."
The next HMICS report - looking into Police Scotland's Aberdeen division - will be published in May.