Glasgow to host World Irish Dancing Championships in 2018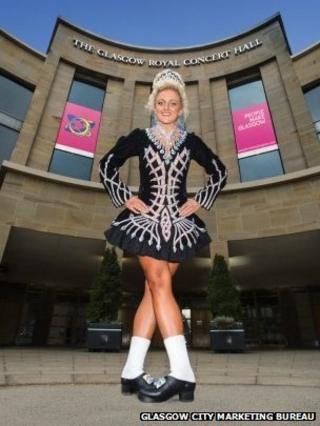 Glasgow has won right to host the World Irish Dancing Championships in 2018.
The city saw off competition from Belfast, Dublin and Killarney, to secure the event, which will be held in March at the Royal Concert Hall.
More than 14,500 dancers and supporters are expected to travel to the city for the championships, boosting the local economy by an estimated £14m.
"The Worlds" has run for more than 40 years. The 2018 event will be its fifth visit to Glasgow.
'Second home'
James McCutcheon, company secretary of An Coimisiún le Rincí Gaelacha, said: "We are delighted that World Irish dancing has chosen to return again to Glasgow in 2018.
"The experience and welcome that all of our attendees receive is second to none.
"Once again the best dancers from all over the world will compete in one of the best venues in the world."
Glasgow City Council leader Gordon Matheson said the championships would be staged in its "second home" in 2018.
"The fact that the organisers have chosen Glasgow for a fifth time is a strong vote of confidence in the efforts the city has made to make past events such a success.
"With thousands of people expected to come and soak up the colourful atmosphere, the championships will be an unmissable celebration of music and dance and bring a significant boost to the city's economy.
"We look forward to extending a warm welcome to all those who will compete in or attend the championships when they return to Glasgow and to working with An Coimisiún to ensure we deliver another world-class event."