Man with 12-inch knife broke into OAP's home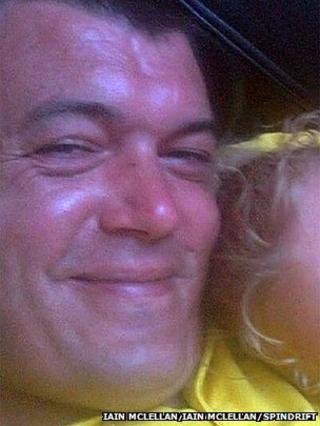 A man has admitted attacking a pensioner and her son in her home whilst wielding a 12-inch knife, in an apparent case of mistaken identity.
Joseph Devenney, 36, and an accomplice armed with a gun forced their way into Isobel McGregor's flat in April 2014.
They threatened to shoot the 63-year-old before assaulting her son, who had pleaded with the two men to leave.
A judge remanded Devenney in custody and revoked his bail. He will be sentenced on 8 April
The attacks occurred at Ms McGregor's flat in Kirkintilloch, East Dunbartonshire. Her son Scott Murdoch was living there with her at the time.
They were both woken in the early hours of the morning by loud banging at the front door and found Devenney and his accomplice forcing their way in. Devenney was armed with a 12-inch knife while the second man had a pistol.
The men appeared surprised to see Ms McGregor and her son, coarsely asking who they were.
Mr Murdoch begged the men to leave, telling them that the flat was "a family home".
'Sheer panic'
The second man then grabbed Ms McGregor by the neck and Devenney told him: "Just shoot her in the leg."
Mr Murdoch then attempted to grab Devenney's knife and they struggled until Mr Murdoch fell.
Ms McGregor attempted to phone the police, but Devenney's accomplice knocked the phone out of her hand and crushed it on the ground.
The two men then punched, kicked and stamped on Mr Murdoch, as well as hitting him with the pistol.
Prosecutor Angela Gray said at this point the victim felt "sheer panic" and believed he was going to be stabbed.
However, the two men then fled the scene. Neighbours who had heard the commotion called police.
'Extraordinary violence'
Mr Murdoch was later treated at hospital for a number of wounds to the head as well as bruising.
Police later traced Devenney, helped by the fact his DNA was found on a hat left at the scene.
The court heard that the knife and pistol that had been used were never found. Devenney's accomplice has also not been identified.
Judge Lord Turnbull said Devenney was guilty of an "extraordinary violent and serious offence".
He was remanded in custody and will be sentenced on 8 April at the High Court in Edinburgh.