Tinkers' Heart in Argyll: Monument status consultation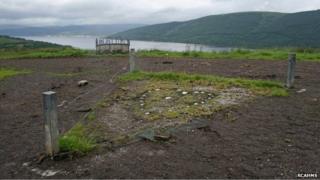 Historic Scotland has launched a public consultation to help it decide if a travellers site in Argyll should be given national monument status.
The Tinkers' Heart, overlooking Loch Fyne in Argyll, is a pattern of quartz stones that has lain since the 1700s.
Travellers have used the site as a wedding place, or a spot to bless children or remember the dead.
Historic Scotland previously rejected monument status but is reconsidering after campaigners petitioned MSPs.
The disused crossroads where it has lain for centuries is now on private land.
Equalities issues
Campaigners want it awarded legal status as a national monument so it can be restored and preserved for future generations.
Last month, the Scottish Parliament's petitions committee considered the case.
In its evidence, Historic Scotland acknowledged that equalities issues should have been a factor in the previous decision to decline legal status.
The heritage body said it would reassess whether or not the Tinkers' Heart should become a scheduled monument.
Dr George Findlater, who is leading the consultation for Historic Scotland said: "We are really keen to hear about any information people may have - no matter how trivial it may seem - regarding the Tinkers' Heart.
"This is a great opportunity for those with knowledge of its history to help us better understand its cultural significance.
"The petitioners and petition committee have already demonstrated the weight of feeling surrounding this particular monument, which is why we have chosen to look again at our previous decision."
The consultation, which runs until 15 May, is aimed primarily at the travelling community and people in the Argyllshire area but anyone can contribute.
'Oral tradition'
Members of the public are being encouraged to submit their stories, songs, photographs, and any other information relating to the site.
Contributions can be made via the Historic Scotland website, by email, by post, or over the phone.
Once the consultation closes, submissions will be analysed and used to inform the wider review of Historic Scotland's position on the cultural significance of the Tinkers' Heart.
Dr Findlater added: "Going out to engage with the public in such a wide-ranging way is not something we do all the time but, given the challenges presented by this particular case, in assessing a monument linked to people who often relied primarily on oral tradition to pass down their history, we decided that these measures were necessary.
"Ultimately what we are trying to do is to improve our understanding on this important, yet sometimes neglected area of Scottish history."