John McPherson held without limit over Ryan McNeill killing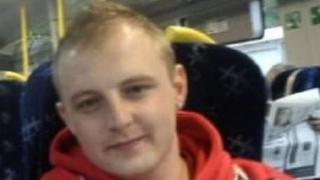 A man who killed a visitor to his family home in Glasgow has been detained at the State Hospital at Carstairs without limit of time.
John McPherson, 28, had flouted a court ban to stay away from the property in Easterhouse, where he fatally stabbed Ryan McNeill, 29, on 15 March 2014.
He originally faced a murder charge.
Prosecutors accepted his guilty plea to culpable homicide on the grounds of diminished responsibility after hearing he suffered from mental health issues.
At the High Court in Edinburgh, judge Lord Bannatyne told McPherson that he was satisfied he should impose compulsion and restriction orders on him as sought by the Crown.
The court heard that McPherson has a manic depressive disorder and has been prescribed anti-psychotic medication and mood stabilisers. He has delusional ideas and believes he can foretell the future.
Woman assaulted
The court previously heard that McPherson had been banned by a sheriff from going to the family home in the city's Conisborough Road after an alleged attack on his father in July 2013.
Despite the ban, McPherson was staying there on 15 March last year.
Mr McNeill had driven there from his home in Greenock after being contacted by a woman.
The court was told that McPherson assaulted a woman at the property before Mr McNeill tried to step in.
McPherson's mother heard shouting and decided to leave to go to her daughter's home.
McPherson then went to a drawer in the kitchen where the only sharp knife was kept, before going outside with his victim, whom he repeatedly stabbed.
Mr McNeill managed to get back inside the house but collapsed behind the front door. He died after one of the knife blows pierced his heart.
McPherson - who already had a lengthy criminal record - then slashed all four tyres of Mr McNeill's Volkswagen before fleeing to a friend's house.