Knifeman James McFarlane held without limit of time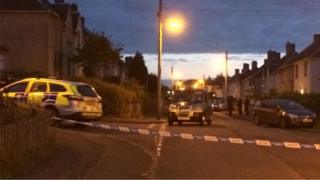 A man who slashed a taxi driver from ear to ear and then attacked an elderly woman has been detained at the State Hospital without limit of time.
James McFarlane, 34, has petrol bombs with him when he attacked 44-year-old Andrew Burns in his taxi in Glenburn Avenue, Cambuslang, on 20 June 2014.
He then drove off and repeatedly stabbed Jean Evans, 69, at Dukes Road.
McFarlane faced attempted murder charges but was acquitted on the grounds he was mentally ill.
The High Court in Glasgow heard that McFarlane is suffering from amnesia with regard to the incidents and has no recollection of what happened.
'Significant risk'
Dr Nicola Swindon, a consultant forensic psychiatrist at the State Hospital, told advocate depute Bill McVicar, prosecuting, that McFarlane is psychotic and suffering from paranoid schizophrenia.
She added: "He believes that digital demons have infiltrated world leaders and official bodies. It is clear he poses a very significant risk to himself and to others."
Dr Swindon and Dr Louise Ramsay, a consultant forensic psychiatrist at the Douglas Inch Institute in Glasgow, both agreed that McFarlane should be detained at the State Hospital on a compulsion order and a restriction order.
Lord Turnbull ordered that McFarlane, who has a history of mental health problems since 2002, should be detained there under special security.
It will be up to doctors to determine when he is fit to be released.
The court heard that McFarlane was wearing a black dinner suit and bow tie and sporting a dyed blond Mohican hairstyle when he entered Mr Burns' taxi.
The father-of-three was also stabbed in the chest and had cuts to his hands as he battled to fight off McFarlane.
Mr Burns, who had to undergo emergency surgery, was left lying in the street following the attack with blood gushing from his neck.