Father Richard Rodgers suspended amid historic sex abuse probe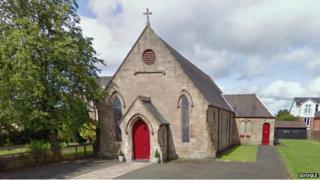 A Roman Catholic priest has been suspended from his North Lanarkshire parish amid a police investigation into allegations of historical sexual abuse.
The Diocese of Motherwell said Father Richard Rodgers, 79, would be absent from St Mary's Parish Church in Cleland for "an unspecified period of time".
It said the action had been taken after a complaint was received and passed to Police Scotland.
A spokesman for the force said the matter was being investigated.
A spokesman for the Diocese of Motherwell said: "Following a complaint received by the Diocese of Motherwell and passed to Police Scotland, Father Richard Rodgers, parish priest of St Mary's, Cleland, will not be in active parish ministry for an unspecified period of time.
No ministry
"Father Rodgers has agreed to this and will not be living in the parish house or undertaking any public ministry."
The statement said another priest from St Brigid's parish in Newmains, assisted by the Holy Ghost Fathers from Carfin, would act as administrators of St Mary's for the time being.
The statement concluded: "While the Diocese of Motherwell await the outcome of the police investigation, no further statements will be made."
---
Reevel Alderson, Home affairs correspondent, BBC Scotland
The Roman Catholic Church in Scotland announced a three-pronged response to allegations of sexual abuse.
It promised it would publish an annual audit of all allegations received by the church - and has, so far, published two.
It also said it would instigate a retrospective investigation of historic allegations, dating back to 1947, and work is continuing on that.
Its third response was to invite the former Moderator of the General Assembly of the Church of Scotland, Dr Andrew MacLellan, to head a commission into the way the Catholic Church had handled abuse allegations.
He has said his report would be published in the second half of 2015.
The church said any allegations uncovered in the historical review, which had not been acted upon, would be passed to police for them to investigate.
It also undertook to pass on to police any new allegations about sexual misconduct by priests or lay staff, and it is understood that is what happened in the case of Father Rodgers.
He has been suspended while the police inquiries continue, which a church spokesman said is normal practice for any employer.
---
BBC Scotland understands the allegations date back to the 1960s or 1970s.
A spokesman for Police Scotland said: "We can confirm that we have received a report in connection with alleged historical sexual abuse and the matter is currently being investigated."