Dates for 2015 Turner Prize in Glasgow announced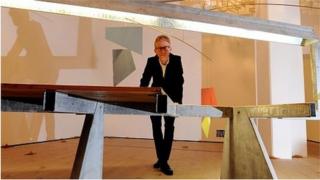 The work of artists shortlisted for this year's Turner Prize will be exhibited at the Tramway in Glasgow from 1 October, it has been announced.
The winner of the most important prize in contemporary visual art will be revealed in the city on 7 December.
It will be the first time the prize has ventured to Scotland.
Dr Penelope Curtis, director of Tate Britain, said Glasgow had provided so many Turner Prize-nominated artists that it felt like a "natural home".
Artists with a Glasgow connection include Douglas Gordon, Martin Boyce, Susan Philipsz and Richard Wright, who have all won the prize in the past two decades.
Last year's winner, Dublin-born film artist Duncan Campbell, was also Glasgow-based.
The Turner Prize, established in 1984, is awarded to a British artist, under the age of 50, for an outstanding exhibition in the previous year.
The prize leaves Tate Britain and is presented at a venue outside the capital every other year.
The four shortlisted artists will be announced on 12 May.
Dr Curtis said: "Given how many artists from Glasgow have made up the Turner Prize shortlists over recent years, it is great to have the prize on show in Tramway, which feels like a natural home for the prize this year."