Glasgow Royal Infirmary improves after hygiene failings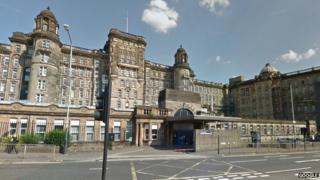 A hospital where patient equipment was found to be spattered with blood and body fluids has "significantly improved" inspectors have said.
Concerns about the Royal Infirmary in Glasgow were escalated to management following a serious of inspection visits in October last year.
The Healthcare Environment Inspectorate (HEI) said unannounced follow-up visits in February were "positive".
This meant there were "no requirements or recommendations" for improvements.
Jacqui Macrae, head of quality of care at HEI, said: "This was a positive inspection, which has resulted in no requirements or recommendations.
"The purpose of this inspection was to assess the progress made by NHS Greater Glasgow and Clyde towards addressing the requirements arising from our previous visit, in October 2014.
"During this inspection, in February 2015, we saw evidence that improvements had been made and were in place."
Ms Macrae said that "the standard of cleanliness of patient equipment in the accident and emergency department had significantly improved".
She added: "We also saw evidence that staff were safely managing blood and fluid spillages, and complying with national dress code policy.
"As a result, NHS Greater Glasgow and Clyde (GGC) has met all requirements made previously."
In a statement, NHS GGC said: "We welcome this report and the positive comments made by the inspector.
"Following the last visit we immediately put in place a comprehensive action plan to address all the failings identified in the previous report and the requirements and one recommendation made have all been met.
"We will continue with our local inspections of our health care environment across key areas to ensure any breaches are quickly addressed and will continue to reinforce to all staff the importance of maintaining the high standards expected of them with regards to the health care environment for our patients."