Grant to revamp David Livingstone Centre in Blantyre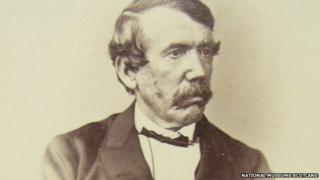 Plans for a multi-million pound revamp of a museum dedicated to Scots explorer and missionary David Livingstone have been awarded £334,000 lottery funding.
The grant will allow the trust which runs the David Livingstone Centre in Blantyre to take forward a bid for £3.5m from the Heritage Lottery Fund.
Trustees hope a revamp will "reawaken interest" in Livingstone's story and boost visitor numbers.
The museum is located around the house where Livingstone was born in 1813.
After qualifying as a doctor, he became a missionary and explorer in Africa where he fought to end slavery, especially in Malawi.
Lion attack
Dr Livingstone was the first European to see the waterfall in southern Africa he named the Victoria Falls. He was also mauled by a lion during his time in Africa.
He went missing on his final expedition, searching for the source of the Nile, and was tracked down five years later by the reporter Henry Stanley who greeted him with the famous words: "Dr Livingstone, I presume".
Livingstone died in 1873 in Zambia from malaria and internal bleeding caused by dysentery.
The museum at his birthplace is run by the National Trust for Scotland and South Lanarkshire Council on behalf of the David Livingstone Trust.
The trust hopes a major redevelopment will boost visitor numbers and interest in Livingstone.
Trust chair, Dr Isabel Bruce, said: "David Livingstone was a remarkable man who lived his life of education, exploration and missionary endeavour to the full, and is warmly known by many Africans as a visionary because of his views on their potential for self-development and his respect for their human rights.
"In spite of the recent bicentenary events to mark his birth, it is still fair to say that today he is better understood and remembered in Africa than he is in the land of his birth.
"This project gives us the opportunity to reawaken his story and provide the memorial he deserves in Scotland, while enhancing his international legacy."
'Pioneering work'
The trust hopes to completely refurbish the museum and open up all the historic buildings and collections at the site.
Colin McLean, head of the Heritage Lottery Fund in Scotland, said the plan would "put David Livingstone's birthplace on the world's stage as a tourist destination and valuable education resource".
"The life of David Livingstone is both incredible and inspirational yet his pioneering work is recognised more in Africa than it is in Scotland where he was born," he said.
"We are delighted to support the development of a project which will allow us to celebrate this rich heritage."