Glasgow Film Festival: Free entry to 'dream team' shows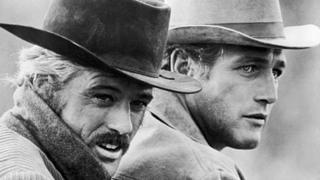 The 2016 Glasgow Film Festival will offer free entry to selected movies which feature some of the most famous double acts in Hollywood history.
Organisers said the free films would be shown as part of the festival's "Dream Teams on the Silver Screen" strand.
They are likely to include classics from Elizabeth Taylor and Richard Burton, Fred Astaire and Ginger Rodgers and Robert Redford and Paul Newman.
The festival will run from 17 until 28 February 2016.
Festival co-director Allan Hunter said: "Chemistry is everything when it comes to creating the perfect screen couple. When audiences sense that electricity they want to see it again and again.
'Very finest'
"'Dream Teams on the Silver Screen' celebrates the very finest Hollywood duos, individuals who made cinema history together in unforgettable classics."
The free films to be shown as part of the strand will be announced with the main programme on 20 January, with tickets set to go on sale for other parts of the festival on 25 January.
A total of 15 other programme strands will run during the festival.
These will see include premiers, retrospectives and celebrations of Scottish cinema and Argentine films.