Herald writer and columnist Ian Bell dies at age of 59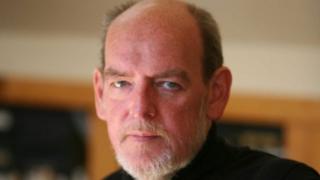 Award-winning Scottish journalist Ian Bell has died at the age of 59.
He started his career as a sub-editor, before moving into political journalism and later becoming a columnist and leader writer for the Herald and Sunday Herald.
In 1997, Mr Bell, who was born and educated in Edinburgh, won the Orwell Prize for political journalism.
Magnus Llewellin, editor-in-chief of The Herald & Times Group, said he was a "great writer" and a "great man".
He added: "His was a vital voice in the national conversation but, more than that, he was a man of profound depth with a hinterland in literature, history and the arts, as demonstrated by the many awards he won as a journalist and author.
"Our thoughts are with his family and his many, many friends."
'So sadly missed'
The journalist is survived by his wife Mandy and son Sean.
In a statement in the Herald, Sean Bell said: "Our family has lost a husband, a father and a son and Scotland has lost its finest journalist.
"He set a standard none shall ever reach again yet he inspired us to never stop trying."
First Minister Nicola Sturgeon has paid tribute to Mr Bell. She tweeted: "This is devastating news. Ian Bell was one of Scotland's finest writers and a man of deep intellect and principle.
"He will be so sadly missed. My thoughts are with his family."
BBC presenter Andrew Marr said Scotland had lost "her finest journalist".
He tweeted: "A kind friend and a wise mentor I never listened to enough… devastated".
Playwright David Greig said on Twitter: "Oh this is so sad. Such a loss. Thoughts to all friends and colleagues.
"It seems such a small consideration in the face of grief, but if ever we needed Ian Bell's voice and writing, it is in Scotland now."
Journalist Kevin McKenna said: "Am distraught at the passing of Ian Bell. He was quite simply the best at what the rest of us try to do ... and the most gentle and humble."